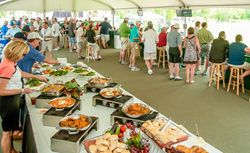 "The Championship is pleased to offer packages designed to suit companies, large or small, looking to entertain," said Bob Jeffrey, Championship Director of the 2015 KPMG Women's PGA Championship
Rye, N.Y. (PRWEB) November 19, 2014
The inaugural KPMG Women's PGA Championship—to be held June 9-14, 2015, at Westchester Country Club in Rye, New York—is offering a range of hospitality packages for companies looking to combine a little business with a lot of great golf-watching in a fun, relaxed environment.
"The Championship is pleased to offer packages designed to suit companies, large or small, looking to entertain," said Bob Jeffrey, Championship Director of the 2015 KPMG Women's PGA Championship. "New York is the perfect market to kick off this exciting Championship showcasing the world's top women golfers competing in a major championship with 60 years of history."
Interested companies have a choice of three hospitality options:

Legacy Pavilion. The open-air pavilion will be on the right side of the 18th fairway (easily accessible from the club's main entrance) and provide organizations with reserved seating and tickets for 20 guests. All-inclusive buffet and open bar are available Thursday-Sunday.
Harwood Room. For the company looking to entertain up to 50 guests a day, this high-end, private venue is located in the club's Sports House, providing easy access to the golf course, putting green, and main entrance. Premium food and an open bar will be available all day Thursday-Sunday.
Champions Club. Located in the clubhouse, this package—available by the day or week—is perfect for small groups, each of which will have a reserved table. All-inclusive buffet and open bar are available Thursday-Sunday.
[Note: All packages include Grounds Only tickets for Tuesday and Wednesday practice rounds.]
Carrying on the 60-year legacy of the LPGA Championship, KPMG, the PGA of America and the LPGA have joined forces to create the KPMG Women's PGA Championship, the first-of-its-kind major championship. The KPMG Women's PGA Championship brings together a world-class, annual major golf championship with a women's leadership summit and an ongoing community initiative to inspire and develop new generations of female leaders.
For more information on hospitality packages, contact Meredith Bach, sales manager at 914-595-6805 or email: mbach(at)pgahq.com.
# # #
For more information about KPMG Golf, visit KPMG.com/Golf
For more information about the Ladies Professional Golf Association, visit lpga.com
For more information about the PGA of America, visit pgamediacenter.com