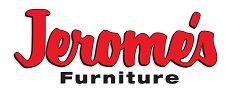 San Diego, CA (PRWEB) May 04, 2011
WHAT: Jerome's Furniture has teamed up with KPRI FM to host a pop-up concert in San Diego. Family owned and operated in San Diego since 1954, Jerome's specializes in helping locals bring the Southern California lifestyle home. In celebration of that fun-loving lifestyle, Jerome's is sponsoring this holiday weekend concert and, in honor of all their customers and fans, they are staging the show free of charge.
KPRI's listeners are always on the hunt for up and coming bands and these pop-up concerts offer an afternoon of fun for all who share a love of music and entertainment.One of San Diego's favorite KPRI personalities, Chris Cantore, will be on-site to interview the band and share in the festivities.
In addition to a thrilling live set by JinxKing, concert goers will enjoy chances to win prizes and be treated to a host of fun surprises. There will be raffle prizes for tickets to upcoming concert shows and Tabe Gourmet Taco truck will be onsite as well with free food samplings (first come, first serve).
WHEN: Saturday, May 28, 2011 Noon - 2 p.m.
WHERE: Jerome's Scripps Ranch Showroom 10724 Treena Street, San Diego, CA 92131 866-633-4094
HOW: With ample space in Jerome's expansive showroom and plenty of free parking, attendees do not need to RSVP for this special event.
Founded in 1954, Jerome's Furniture is a family owned and operated business headquartered in San Diego, Calif. More information can be found by visiting http://www.jeromes.com.
KPRI is locally owned and independently operated by San Diego based Compass Radio Group. KPRI's unique format promises "San Diego's Finest Rock – Then & Now."For more information, visit http://www.kprifm.com.
# # #