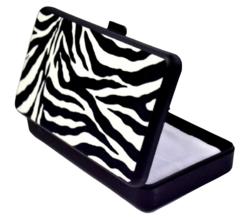 "Our new wipe clutches offer the ideal solution not only for baby needs, but also for moms, travelers, business professionals, and gym-goers who want fashionable freshness at their fingertips," said Kathleen Quinn.
Dallas, TX (PRWEB) October 04, 2012
K. Quinn Designs today announced the launch of its chic wipe clutches sold online through its new e-commerce site. Adorned with fashion-forward fabrics that are exquisite to the touch, the clutch-style travel wipe case can be used as a baby wipe container, but can also be used to hold facial wipes, personal cleansing wipes, and household cleaning wipes, and can even double as a makeup bag, pencil case, wallet, or fashion clutch. The versatile clutch collection is geared towards the modern mom or woman who wants to add a splash of glamour to her everyday necessities.
Ideal as a baby shower gift or stocking stuffer, the pretty and petite wipe clutches can also be tossed in a purse, briefcase, gym bag, carry-on luggage, or conveniently stored in the car, on the countertop, or on a desk. The clutch-style wipe cases are BPA-free, hold up to 40 wipes, and offer a no-leak seal so wipes stay moist. Prices range from $20-$26 plus shipping and come in a variety of Trendy designs with luxurious textured fabrics and optional bling embellishments.
The idea behind the company's wipe clutch is the brainchild of designer Kathleen Quinn, an entrepreneur with a vision for creating sophisticated solutions for everyday needs. Having used a variety of wipes for many years, she was disappointed with the selection of cases on the market and decided to design her own. After months of testing fabrics and working with manufacturers, Quinn helped develop a proprietary method to thermally adhere high-end fabrics for a more sophisticated look. The result is a collection of clutch-style wipe cases that have trendy fused fabrics that follow seasonal fashions and styles.
"The wipe industry has exploded in the past year and has grown way beyond baby wipes," said Quinn. "Consumers of all types are looking for stylish ways to carry or display their cleansing wipes in a beautiful way. Our new wipe clutches offer the ideal solution not only for baby needs, but also for moms, travelers, business professionals, and gym-goers who want fashionable freshness at their fingertips."
For more information or to purchase a K. Quinn Designs wipe clutch, please visit http://www.shopkquinndesigns.com
###