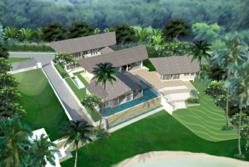 This newly built villa could be described as a showcase for Krabi Riviera's high standards. Like all other villas on their portfolio,
(PRWEB) May 15, 2013
Only villas meeting a high standard of style and comfort can make their way onto Krabi Riviera's portfolio. Indeed, each villa is hand selected to ensure that it complies with their meticulous expectations. That's why the recent addition of The Beach House is such a significant development for the Krabi holiday rental market.
This newly built villa could be described as a showcase for Krabi Riviera's high standards. Like all other villas on their portfolio, The Beach House can boast a private swimming pool, air conditioned bedrooms, a walled garden and top of the range technology. All of Krabi Riviera's villas are either new builds or renovations, and, despite Krabi being a large and mainly rural province, none of the villas are located in remote areas. In fact, all are situated in residential areas, and most are within 1 – 5 km of Ao Nang's beach. It is the unique location of The Beach House that makes this villa stand out as something very special. The villa sits directly beside a small, private beach, and yet it also has convenient road access to Krabi's inland attractions.
Location is, undoubtedly, an important consideration for tourists, and Krabi Riviera outshines their competition by ensuring that all their guests have easy access to local amenities. They achieve this by being the only villa company to provide a complimentary, on-demand taxi service. This advantageous service, which is available within the Ao Nang area between 9am and 10pm, guarantees trouble-free access to Ao Nang's dining, shopping and entertainment district. Krabi Riviera also provides its own "tuk-tuk" service between 9am and 10pm, which prevents guests from having to negotiate the cost of travel with unknown taxi drivers, as well as avoiding any communication problems regarding directions.
This personal style of service is not limited to travel arrangements. Without a doubt, holidaymakers obtaining their accommodation with Krabi Riviera can be sure to receive a wide-ranging personal and professional service that is second to none. The company's success comes from a determination to manage all aspects of their advertised properties. This means that all transport, domestic and catering duties are carried out by staff appointed directly by the company; even the financial transactions related to paying for the accommodation will be processed by their own qualified accounting and technical staff. Consequently, no middlemen or outsourcing have any part to play in the provision of Krabi Riviera's first-class service. This is great news for guests, and gives them confidence in knowing that they will be cared for by the same dedicated team from the moment they book their villa and all the way through their stay.
When a new holiday villa can boast of such an outstanding specification as The Beach House, and benefit from expert management such as that given by Krabi Riviera Co Ltd, it truly becomes worth talking about.