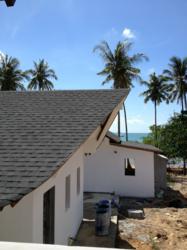 The team at Ton Company Ltd consists of architects, structural engineers, draftsmen, foremen & project managers.
(PRWEB) June 10, 2013
With 12 years experience, and over seventy projects successfully completed during this time, Ton Company Ltd can lay claim to an excellent reputation in the Krabi area. One of their latest projects is the construction of The Beach House, an outstanding new holiday villa which demonstrates the quality and professionalism that has become a trademark for this successful company.
The team at Ton Company Ltd consists of architects, structural engineers, draftsmen, foremen & project managers. Naturally, such a diverse and complete range of expertise in one company contributes significantly to the high standard of workmanship displayed in its completed projects. Consequently, clients can rest assured that Ton Company Ltd will look after each stage of their building project from the design phase through to completion. Other advantages include the team's ability to communicate in Thai, English or French, and their policy of maintaining contact with their clients on a daily basis via email or by using VoIP technology.
These communication skills are important, especially for overseas clients who cannot be present to keep a check on their project. Using a good quality construction management company also results in better communication with the builders and ensures they produce the best possible workmanship. The experienced foremen at Ton Company Ltd can also be on site all day to ensure the work progresses correctly, and, should a problem arise, the in-house architects and structural engineers can visit the site to resolve any issues.
A well designed property is also crucial, particularly when considering the climate in Thailand. The weather can be very hot and humid, and there is a lot of torrential rain during monsoon season. These factors influence the design to create comfortable and practical living spaces with good air flow, shaded outdoor space, and private swimming pools. Additionally, attention is given to ensuring the property is energy efficient to help protect and reduce the impact on the environment.
The architects at Ton Company Ltd also aim to design homes that blend western expectations regarding function and facilities with local architectural features. Particular attention is given to the interior specification of the property, which includes high quality kitchens, convenient storage areas, and modern-day technology. Therefore, requirements such as satellite television and wireless broadband internet connection are all taken into account.
The team at Ton Company Ltd treat every property they build as if it is their own, and it is this personal attention to detail, combined with their skills and expertise, that is the key to their success. Those wishing to stay at The Beach House should contact Krabi Riviera Company Ltd, the firm who manage the property in partnership with Ton Company Ltd.