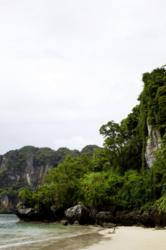 The picturesque Railay beach is just a short boat ride from Ao Nang.
(PRWEB) June 12, 2013
The beautiful Kingdom of Thailand is a spectacular country where magic and mystery can be found in abundance. It's little wonder that many choose to visit Thailand for a romantic holiday with that special person in their life, and where better for couples to spend their honeymoon than the beautiful "land of smiles."
The Beach House is located in the Ao Nang area of the scenic province of Krabi. Most honeymooners want to share relaxing moments on a beach and there are some fantastic locations in Krabi to choose from. The picturesque Railay beach is just a short boat ride from Ao Nang. The beach is situated on a peninsula and visitors need to make the short journey on a longtail boat because the high limestone cliffs cut off access by road. The remoteness of Railay Beach adds an air of secrecy to the location, and creates the atmosphere of a truly romantic hideaway.
Despite the many locations to be explored and enjoyed, some couples may require privacy for this special time together. If so, The Beach House is ideal due to its location in a small private cove with a landscaped garden consisting of tropical fruit trees, which leads down to a private sandy beach. With a covered al-fresco dining area that allows couples to enjoy romantic candlelit dinners whilst looking out across the moonlit sea, it could almost be suggested that The Beach House was built for romance.
"We expect that most guests will be honeymooners, or groups of friends looking for a luxury getaway" says Pierre-Yves Loriers, Managing Director of Krabi Riviera Co Ltd, which manages the property. Mr Loriers has many years experience in the provision of luxury holiday villas, and he takes pleasure in knowing what customers look for in exclusive holiday accommodation. Indeed, all villas in the Krabi Riviera portfolio have an excellent specification, with designer kitchens, sumptuous bathrooms and private swimming pools. Mr Loriers goes on to say that "In fact, the private beach in front of the villa would make an ideal location for a small, intimate wedding in Krabi, with the reception held in the villa afterwards".
The people of Thailand are no strangers to romance and some of their ancient traditions are grounded in it. For instance, during Loy Kratong, Thailand's Festival of Lights held every November, couples release homemade flower-decorated kratongs into waterways and make a wish for long lasting love. On this special night, nearly every expanse of water, be it a river, lake or sea, becomes alive with sparkling candlelight as the colourful kratongs gently drift across the water.
With such beautiful traditions, amazing scenery, and the opportunity to stay in a new luxurious villa, newlyweds staying at The Beach House will enjoy everlasting memories of a truly romantic honeymoon.