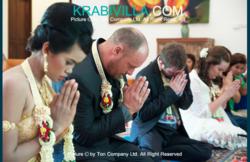 In recent years, the beautiful Kingdom of Thailand has become popular with couples seeking a special destination in which to hold their wedding.
(PRWEB) June 25, 2013
In recent years, the beautiful Kingdom of Thailand has become popular with couples seeking a special destination in which to hold their wedding. However, couples do not need to search any further as the recent completion of The Beach House has created the perfect destination for a dream wedding ceremony. With Krabi's unspoilt beaches, tropical landscape, and relaxing atmosphere, where better to celebrate one of life's most important events?
Naturally, although the ceremony is an important display of love and commitment, it is also important to ensure that all the legal formalities are completed beforehand. Indeed, if the marriage is to be legally binding, it must be registered in Thailand with the Registrar at the local District Office. Wedding planning companies exist to help foreign nationals through the process of marrying in Thailand, and there are also some useful websites that provide step-by-step guides. Whatever the case, foreign nationals must always be in the position to obtain an "affirmation of freedom to marry" which is a key piece of legal documentation for the Thai authorities.
When it comes to the actual wedding ceremony, couples have the freedom to choose the style of ceremony that best suits their own beliefs and values. Many non-Thai people are still attracted by the appeal and charm of a Buddhist ceremony despite not formally belonging to this faith. However, although Thailand is predominantly a Buddhist country, there is no formal state religion and it is still possible to arrange Christian, Hindu or Muslim weddings, if preferred. No matter what style of ceremony couples choose, The Beach House will make the perfect venue. This stunning contemporary villa nestles in a small private cove on the beautiful Krabi coast. What's more, the villa's landscaped garden leads gently down to a private sandy beach with breathtaking panoramic sea views across the clear, turquoise waters of the Andaman Sea.
"The beach is private and the surroundings are quiet and green ... in fact, the private beach in front of the villa would make an ideal location for a small, intimate wedding, with the reception held in the villa afterwards," says Pierre-Yves Loriers, Managing Director of http://www.krabiriviera.com, which manages the property. Krabi Riviera can claim to be a leading provider of holiday villas in the area. Indeed, although The Beach House stands out due to its fantastic location, all villas in the Krabi Riviera portfolio have an excellent specification, with designer kitchens, sumptuous bathrooms and private swimming pools. Additionally, all their guests can enjoy first-rate facilities such as a personal concierge service and a complimentary taxi service within the Ao Nang area.
Those wishing to hold their wedding in Krabi at The Beach House should contact Krabi Riviera to check on the villa's availability. In doing so, couples will be taking the first few steps in creating a special moment that will give them memories to last a lifetime.