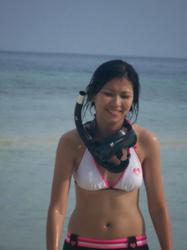 There is a good selection of local diving centres that offer diving and snorkelling trips for all ages and abilities.
(PRWEB) June 14, 2013
Situated beside a private sandy beach in the popular Ao Nang area, The Beach House promises the holiday of a lifetime for scuba divers wanting to explore the thriving marine life in this beautiful region. It is possible to dive all year round in Thailand, although conditions are at their best between November and April. Despite this, the low season can still be a great time in Krabi as temperatures can be more tolerable and there are fewer tourists about. What's more, the period between June and August can still offer good visibility for diving.
There is a good selection of local diving centres that offer diving and snorkelling trips for all ages and abilities. Some of these centres can also provide training such as the PADI Open Water Diver Course, an entry level certification for scuba diving. This really is the first step in diving education and can lead to a lifetime qualification recognised in over 175 countries and which opens up an underwater world of exploration. Those wishing to further develop their diving skills can progress to the Advanced Open Water qualification. This allows diving to greater depths, and creates opportunities to explore many of the world's wrecks and other challenging sites.
Ao Nang itself offers much for diving enthusiasts. Trips can be arranged to the local islands, most of which can be reached within 30 minutes by longtail boat. The diving sites themselves are swarming with life, including hard and soft corals, colourful sea fans, sea anemones and a diverse range of reef fish. Indeed, there are over 200 recorded species of fish and 80 species of coral.
Naturally, accommodation is an important consideration when planning a holiday, and a diving holiday is no exception. The Beach House can certainly cater for every need following an energetic day exploring Krabi's stunning waters. This beautiful new contemporary villa sleeps up to 10 people, so it is ideal for family holidays, or for groups of friends wanting to share a truly special vacation. There are four individual king-sized suites, each with its own en-suite bathroom. There is also a TV / Media room with a double sofa bed. All rooms are air conditioned, and, due to the villa's fantastic beachfront location, three rooms are sea-facing, with stunning panoramic views. Guests can also continue to indulge themselves in the beautiful designer outside pool with its infinity edge and Jacuzzi area.
With the combination of Krabi's fantastic diving facilities and excellent marine life, coupled with luxurious surroundings in a beautiful beachfront villa, a stay at The Beach House guarantees a holiday never to be forgotten.