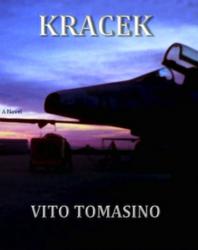 That's the whole point, Viktor, war is war. They're all the same. Good men get killed while others grow richer. Popular, or unpopular, it makes no difference. I, for one, hope it never becomes popular.
Las Vegas, NV (PRWEB) May 21, 2012
Kracek, the protagonist of Vito Tomasino's new novel of the same name, is a fighter pilot as capable of destroying his rivals with words as he is with bullets, a man as courageous in the political arena as he is on the battlefield, who sees his enemies not as faceless inhuman beings, but as good men and women who simply find themselves on the other side of a war none of us want.
Our politicians would have us believe that war is a natural extension of diplomacy. Kracek sees it as a failure of our leaders to resolve their differences with reason. "Practically every decision taken by them is made, not with our interests in mind, but theirs," he angrily declares. "If that means going to war to maintain political power, or protect corporate profits—despite the potential loss of millions of lives—we go to war!"
Ironically, his own exploits in Vietnam thrust him into its politics, and he is called back to Washington to be honored by the President before a Joint Session of Congress. Johnson needed a hero to tip the balance of votes in favor of his war appropriations bill, but got more than he bargained for.
Before the second Air Force Cross was pinned on his dress blue uniform the audience responded with a standing ovation, calling on him to speak. With an approving nod from the President, Kracek stepped to the podium, waited for the applause to subside, then delivered his speech with the same hard-hitting precision that characterized his flying. He concluded with: "Regardless of whether you stand for or against our involvement in Vietnam, we are there, American lives are at risk! Continue your debate if you must, but do not forget those of us whose lives hang in the balance."
"Kracek" is not just another war story, but one that examines the underlying issues of war, its politics and human behavior during the most trying conditions—concerns as relevant today as they were in every war fought in the past, and any we may fight in the future. One of the more colorful characters in his book sums it up with this blunt observation: "That's the whole point, Viktor, war is war. They're all the same. Good men get killed while others grow fatter. Popular, or unpopular, it makes no difference. I for one hope it never becomes popular."
The author, himself a decorated fighter pilot, takes us into the challenging world of combat flying with the confidence of one who has been there, and weaves a story that is as intellectually engaging as it is filled with action, humor, compassion, and love. He shows us the face of war from the enemy's perspective as well as ours, and reminds us—through the words and deeds of his very believable characters—that war is as much an ennobling experience as it is dehumanizing.
To arrange an interview with the author, and/or obtain a review copy of his book, please contact Vito Tomasino at (702) 914-0729, or vtoma33(at)hotmail(dot)com.
"Kracek", published by eBookIt.com, is now available in e-book format from on-line retailers, including Amazon.com, BN.com, the Sony Reader Store, etc.
Additional excerpts from the book may be seen on http://www.kracek.com.
About the author:
Vito Tomasino stood watch around the world to insure the "Cold War" remained so, sat in the cockpit of a fighter aircraft poised to strike Russian missile sites in Cuba (his wife's homeland), and flew more than one hundred missions in Vietnam. As a young marine he watched the sleek jets sweep low over a scarred Korean landscape and knew, that his future was up there…with them.
About eBookIt.com
Since 2010, eBookIt.com (based in Sudbury, Massachusetts) has helped thousands of authors and publishers get their books converted to ebook format, and distributed to all the major ebook retailers, including Amazon.com, Barnesandnoble.com, Apple iBookstore, Kobo, Sony Readerstore, Ingram Digital, and Google eBookstore.