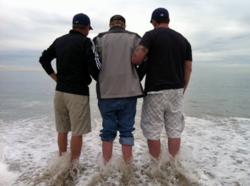 Dean Goetz and John Gomez are proud to be the Kransky Lawyers.
San Diego, California (PRWEB) June 07, 2013
On Friday, March 8, 2013, in the first DePuy ASR recalled hip trial in the United States, a Los Angeles jury awarded plaintiff Loren Kransky, $8.34 million in damages. Dean Goetz and John Gomez are the lawyers who got Mr. Kranksy his Preference Case Trial and his $8.34 million dollar verdict, Kranksy vs. Depuy and Johnson and Johnson, Los Angeles County Superior Court Case # BC456086*
How did Mr. Kranksy get the first Depuy trial?
According to court records, Mr. Kransky was told he had less than six months to live so he qualified for an expedited trial date pursuant to the California Preference Law, which allows people who are dying within six months, to get a trial set within 120 days of the motion being granted.
Attorneys Dean Goetz and John Gomez filed a Preference Motion asking Judge Kramer to set an early trial date and Judge Kramer set the Kransky vs. Depuy case for trial in Los Angeles on January 22, 2013.
Mr. Kransky was able to tell his Depuy ASR story to a Los Angeles jury with help from his attorneys,experts and surgeons. And the jury decided that the Depuy ASR XL was a defective device and awarded Mr. Kransky $8.34 million dollars, as many news outlets reported. **
Bill Kransky had his ASR removed because of the metal debris in his hip joint capsule and the resultant metalosis. The metal fretting from the defective ASR device had killed his hip tissue and surrounding muscles.
According to court records, Mr. Kransky's medical records at the time of the revision surgery, "showed that the cobalt and chromium metal levels in his blood were 8 times higher than even Depuy considered acceptable."
As of June 6, 2013 Mr. Kransky is still alive. He has had the Depuy ASR XL removed, his body is detoxing and he is starting to feel better, according to attorney Goetz.
San Diego attorneys, Dean Goetz and John Gomez, continue to fight hard for their Depuy ASR clients and seek justice for each of them. The Depuy ASR case is not a Class Action lawsuit but a Mass Tort Action wherein each person who has been injured by the defective Depuy ASR is entitled to his or her own day in Court in front of a jury, just like Bill Kransky.
*Kranksy vs. Depuy and Johnson and Johnson, Los Angeles County Superior Court Case #BC456086
https://www.lasuperiorcourt.org/civilcasesummarynet/ui/index.aspx?#EVT41
**Jury orders J&J unit to pay $8.3 million in metal hip trial
http://www.reuters.com/article/2013/03/08/us-jj-trial-hips-idUSBRE92711P20130308