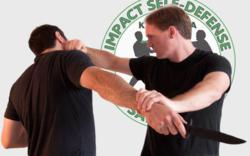 Krav Maga is not a sport like UFC (Ultimate Fighting Championships) you see on TV
San Diego, California (PRWEB) June 11, 2012
There are no rules in a street fight; no referees or bells to stop an attacker from killing you. And yet, most self-defense schools insist on teaching tactics based on sport fighting systems designed for the competitive ring, where there are rules, referees, and clearly defined "illegal strikes" are banned.
"Krav Maga is not a sport like UFC (Ultimate Fighting Championships) you see on TV", says Stephen Scanlan, instructor at the Impact Krav Maga San Diego School. "It is more martial than art, where strikes to the groin, eyes, throat and other vulnerable body parts are encouraged to fend off an attacker. These types of strikes are banned in the UFC and other sport fighting systems because they can permanently injure or even kill your opponent. In Krav Maga, we want to injure the attacker so that we can go home safely."
Impact Self-Defense recently opened a Krav Maga school in San Diego with a mission to teach authentic, real-life, self-defense based on the principles of Krav Maga under Krav Maga Global (KMG), which is headed by Eyal Yanilov, the recognized founder and Source of modern Krav Maga. Krav Maga is a combat self-defense system developed within the Israeli Army (IDF) and is used today by special forces (including Navy SEALS and Army Rangers), law enforcement (including CIA and FBI), security, and civilian groups from a variety of countries.
Krav Maga treats every attack as though it is a life or death situation. Its techniques emphasize aggressive simultaneous defense and counterattacks. It teaches people who are being attacked to immediately go on the offense, deliver decisive counterattacks, and exit the situation as quickly as possible. This includes techniques to defend against common street weapons, such as knives, guns, chains, bats, Tasers, et cetera.
For those seeking to learn "professional" Krav Maga for law enforcement, executive protection, and armed military combat, instructor Yury Sigal advises them to seek a Krav Maga Global (KMG) affiliate school that has been certified by Eyal Yanilov, the generally recognized source of Krav Maga in the world. "You want to make sure that you are learning from the source, where these techniques have been proven on the battlefield and in the streets. In combat and law enforcement, you don't have the luxury of second chances. Either it works or you're in a world of hurt."
Despite the hardcore nature of Krav Maga, anyone can learn the techniques. Neil, a beginning Krav student commented, "I can't believe these techniques are so easy, efficient and almost effortless". Veronica Gabarra, instructor at Impact Krav Maga, encourages females to learn Krav Maga and get empowered to "be their own bodyguards" and learn to defend themselves so they don't become victims of assault. "Females are often told we are not as strong as men," says Veronica with a big smile. "Krav Maga turns the tables allowing anyone, whether female, young or old, to be able to effectively defend themselves against a street attack."
******************************LIMITED TIME OFFER*********************************
Does Krav Maga really work? FREE intro class click here or call 858-480-5473 mention code: PR612 to reserve spot. Limit: 10 per intro class!