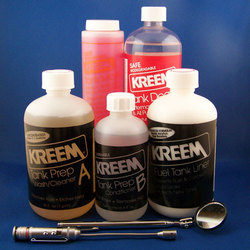 Kreem has long been the time-honored name associated with motorcycle gas tank restoration
Jackson, TN (PRWEB) February 13, 2008
G2 Industries, a distributor of Kreem Products, Inc which has been recognized for 30 years as the leader in the field of motorcycle tank restoration products, celebrated the introduction of their new state-of-the-art website, KreemProducts.net.
As part of the website's introductory kick-off, G2 is including an offer of special limited-time Internet-only pricing on the full product line. The significant discount will be applied to orders placed through the website, and also to phone orders placed through their toll-free number.
This venture into e-commerce marks a new chapter in the marketing of the Kreem product line, which currently includes Kreem Fuel Tank Liner, the two-item Kreem Tank-Prep™ set, Tank Degreaser, Tank Mask, and Blue Shield™ Pipe Blueing Protectant.
Company executive Rachel Gibson explained that the new retail site will focus on the needs of the individual customer, providing him with complete information that may be unavailable from customer service staff at the many chain automotive parts and supply outlets where Kreem Fuel Tank Liner and other products can be purchased nationwide.
"The website will provide everything the vintage motorcycle restoration hobbyist might want to know about the product--and then some," said Gibson. "It includes not only vital product information and detailed, step-by-step instructions on how the Kreem Combo-Pack (Kreem Fuel Tank Liner, Kreem Tank-Prep A and Kreem Tank-Prep B) should be utilized for optimum results; there is also a comprehensive "How to Kreem your tank" video that carefully demonstrates each step in the application process."
The site also emphasizes their highly responsive customer service philosophy, Gibson noted. "If a parts-store clerk can't answer your question about the product, and if the website fails in any way to answer those product questions or concerns, the KreemProducts.net site offers not only a bounce-back e-mail opportunity to pose your question to us, but our toll-free phone number makes it possible for you to access a real person to talk with you.
"If a representative is not immediately available to take your call, your message will receive prompt attention and a rapid call-back response. G2 is committed to serving customers with not only the best product line, but the best service and support, as well," Gibson vowed.
With growing interest in the collection and restoration of vintage motorcycles, demand for the Kreem Product line has continued to grow over the years. Collectors who wish to retain the integrity of the original bike prefer to restore an original or contemporary period tank, rather than purchase an after market replacement tank, "--and chances are good that no such replacement is even available," Gibson pointed out.
"Kreem has long been the time-honored name associated with motorcycle gas tank restoration," said Gibson. "We're simply taking it to another level of commitment to customers by introducing a website, which allows us to offer superior service and savings our competitors can't match.
According to Gibson, the website will offer the lowest retail purchase price available anywhere on items in the Kreem Products line, with competitive shipping costs.
Additionally, several popular periodicals of special interest to the vintage motorcycle collector will carry coupons that also offer introductory savings on selected Kreem Products. Check the websites "Coupon Specials" to identify issues bearing coupons with code that may be applied to Internet purchases.
For further information, visit KreemProducts.net or call 1-866-711-0910.