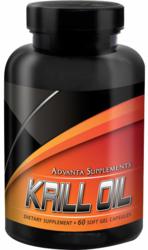 Krill Oil works as effectively as omega 3s from other sources – but at a much lower dose
Adel, IA (PRWEB) April 24, 2013
Men and women who are in search of a clinically proven way to improve their heart health, lower their cholesterol, combat inflammation, optimize their brain function, and boost their overall well being can now take head to Amazon.com and purchase the new Krill Oil from Advanta Supplements.
Each small, easy-to-swallow, no-aftertaste soft gel capsule contains 500mg of krill oil, and delivers:

81mg of EPA
52mg of DHA
14mg of Omega 6
46mg of Omega 9
200mg of Phospholipids
Plus, each soft gel capsule is fortified with Vitamin A and Vitamin E for even better absorption. Men and women simply need to take two a day to boost their heart health, lower their cholesterol and more.
"Clinical studies have shown that just 300mg of krill oil can lead to significant health improvements, and that krill oil works as effectively as omega 3s from other sources – but at a much lower dose," commented a spokesperson for Advanta Supplements, a leading US-based manufacturer of guaranteed-to-work nutritional and dietary supplements that are developed and tested in FDA-approved laboratories. "Our new Krill Oil product contains more than three times that amount in just two, easy-to-swallow pills. It's an ideal solution to help build and maintain better heart health and much more!"
Advanta Supplements' new Krill Oil 500mg 60-soft gel capsule bottles are available for purchase from Amazon.com at http://www.amazon.com/Krill-Oil/dp/B0068R98P2. Plus, for a limited time, new customers will enjoy a 30% savings when they use coupon code KRILLOIL. They can also take advantage of Amazon.com's "Super Saver" shipping option on any orders over $25.
As with all Advanta Supplement products, customers who purchase bottles of Krill Oil can request a money back guarantee if they find that it fails to meet their expectations.
About Advanta Supplements
Located in the heart of Iowa, Advanta Supplements partners with FDA-approved labs to develop, test, and manufacture a line of quality vitamins and nutritional supplements. All Advanta products are made in the U.S. and backed by a complete customer satisfaction guarantee. Learn more at http://www.advantasupplements.com.