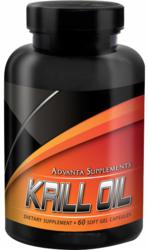 Krill Oil also acts as a powerful anti-oxidant.
Adel, IA (PRWEB) June 05, 2013
Advanta Supplements is pleased to announce they have launched a new Krill Oil product that has shown great results in clinical trials in reducing lipid levels.
Clinical Research reported by the National Center for Biotechnology Information has confirmed that Omega 3 derived from fish-oil pills and fatty fish can reduce the risk of heart attacks and strokes. Now investigators have demonstrated that it's possible to attain the same heart healthy levels of Omega 3 recommended by the American Heart Association from krill-oil supplements. This clinical trial was performed by the University of California Berkeley in double-blind trials for premenstrual syndrome/dysmenorrhea and for normalizing blood lipid profiles. Krill omega-3 phospholipids demonstrated anti-inflammatory activity, lowering C-reactive protein (CRP) levels in a double-blind trial. Utilizing DHA and EPA together with phospholipids and membrane antioxidants to achieve a triple cell membrane synergy may further diversify their currently wide range of clinical applications.
A spokesman for Advanta Supplements noted "Our Omega 3 fish oil has been extremely popular with our customer base but some people were asking us for a product that was not fish oil based and was easy to take but still provided fish oil benefits. Normal fish oil can generally yield in excess of 80% fat. Krill Oil on the other hand yields less than 5% fat. An additional benefit is that Krill Oil also acts as an anti-oxidant, where standard fish oil does not."
Each tiny soft-gel of Krill Oil by Advanta Supplements contains 500 mg of Krill Oil and each bottle contains 30 servings
Krill Oil by Advanta Supplements is available for purchase from Amazon.com at http://www.amazon.com/Advanta-Supplements-Krill-Oil-Softgels/dp/B0068R98P2. Each 60-capsule bottle sells for $15.89, which is 17% savings off the list price. Additionally, individuals who purchase two bottles will receive a third bottle at no additional cost, and their purchase is eligible for Amazon.com's "Super Saver" shipping option.
About Advanta Supplements
Located in the heart of Iowa, Advanta Supplements partners with FDA-approved labs to develop, test, and manufacture a line of quality vitamins and nutritional supplements. All Advanta products are made in the U.S. and backed by a complete customer satisfaction guarantee.