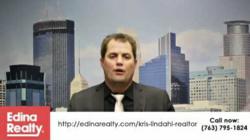 RealEstate.com calls Kris Lindahl the captain of "a technology based real estate powerhouse in the Twin Cities area of Minnesota."
Blaine, MN. (PRWEB) August 06, 2012
RealEstate.com calls Kris Lindahl the captain of "a technology based real estate powerhouse in the Twin Cities area of Minnesota." Kris Lindahl's technology strategy has been noticed at a national level, and is only one testament to the fact that Lindahl is a real estate force to be reckoned with.
Kris Lindahl joined market-leading Edina Realty in 2008, quickly becoming one of the brokerage's top performing agents. In only his third year as a Realtor, Kris Lindahl listed 62 homes and assisted 33 buyers in finding the home of their dreams. These real estate transactions totaled $13,400,182.
Kris Lindahl is a Minnesota native who holds a bachelor's degree in education from Minnesota State University, Mankato. While Kris Lindahl is licensed to sell real estate in both Minnesota and Wisconsin, Kris Lindahl is familiar with all parts of both states, with Kris's roots running deepest in Blaine Minnesota.
Since Kris Lindahl understands that the more eyes that see a house, the quicker the house sells, Kris Lindahl's technological strategy involves making sure that any home Kris lists comes up at the top of a search engine's results pages. Representative of the new breed of real estate agents, Kris eschews the old, now ineffective methods of marketing homes.
"I've ditched traditional tactics for the most part, and leveraged technology to reach as many buyers as possible through social media, classifieds, and several Internet marketing strategies. The Internet has the ability to connect buyers to properties instantly, and I can't think of a quicker path than that," Kris Lindahl tells RealEstate.com.
Kris Lindahl holds several significant real estate designations: Certified Depressed Property Expert (CDPE), Short Sale & Foreclosure Resources (SF), and Council of Residential Specialists (CRS). Kris Lindahl enjoys being able to assist first time home buyers get into the home of their dreams as well as helping troubled homeowners with underwater mortgages get out from under the burden of a house they can no longer afford.
Paired with Edina Realty, one of the nation's largest real estate companies, Kris Lindahl possesses the network of contacts and resources other agents can only dream of.
When people are ready to sell, or buy Minnesota or Wisconsin real estate, they can now unleash the power of the Internet by using the Kris Lindahl Team.