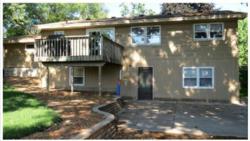 Kris Lindahl explains, "With all the stress right now in the real estate market, people really need to be able to get help, along with answers to their questions when they are looking to buy or sell a home in Fridley Minnesota."
Fridley, MN (PRWEB) August 05, 2012
One of Edina Realty's top agents, Kris Lindahl, has just made it easier for folks interested in purchasing a home in Fridley, Minnesota. The newly launched website by Kris Lindahl, FridleyHomesforSale.com is an easy to navigate site offering buyers a chance to apply for a mortgage, check for down payment assistance, and view Fridley homes for sale, without having to search numerous websites.
"We developed this site to make the home shopping experience easy on our clients," says Kris Lindahl, one of Edina Realty's top producing agents. Kris Lindahl explains, "With all the stress right now in the real estate market, people really need to be able to get help, along with answers to their questions when they are looking to buy or sell a home in Fridley Minnesota."
In addition to information about homes for sale in Fridley, you'll find information about Fridley's history, schools, recreation and doing business in the city. "We're finding that a lot of Fridley home buyers are relocating to the area, so we try to provide as much local information as possible to help them become acclimated," adds Kris Lindahl.
FridleyHomesforSale.com allows the user multiple search options, such as searching for a home by price, along with a handy chart that lists the current number of available single-family, town homes, condo and commercial listings for sale in Fridley.
Home buyers considering buying a luxury home in Fridley, or Fridley new construction home, will find links at the bottom of the homepage that take them to pages full of additional information and timely advice.
Edina Realty is an eleven year market leader, has 56 years of local experience, and is home to some of the most productive real estate agents in Minnesota. The Kris Lindahl Team incorporates the latest technology to help their home buyers and sellers with up-to-the minute information. Kris Lindahl is an industry leading expert that has experience with REO's, short sales, traditional sales and first time home buyers.
Visit FridleyHomesforSale.com to search for a home for sale, a short sale, or place a home up for sale in Fridley Minnesota. Kris Lindahl and the Lindahl experienced Team can make home buying or selling a much easier experience.