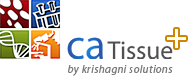 caTissue Plus addresses many pain points in caTissue - right from faster response time, better user interface, and many new features. (Srikanth Adiga - C.E.O, Krishagni Solutions)
(PRWEB) February 04, 2013
Krishagni, leader in providing commercial support to caTissue adopters, has now taken caTissue to the next level with its caTissue Plus initiative. "At Krishagni, we are working closely with our clients like Washington University, University of New South Wales, University of Leicester, Johns Hopkins University, and so forth to enhance caTissue with new features, faster page loads, and user interface improvements" said Srikanth Adiga, CEO Krishagni Solutions.
caTissue Plus is free and open source, and is developed based on community input. Krishagni works closely with many centers using caTissue and feedback from caTissue public forums to address pain points in caTissue. caTissue Plus also works in a "crowd sourcing" format where multiple biobanks contract Krishagni for commercial support fund development of new features and bug fixes in caTissue.
caTissue Plus v2.0 has many new features which can be accessed by clicking here. Videos demonstrating the new features can be viewed here
The main usability and performance improvements in this release are in Collection protocol administration and Ordering & Distribution module. The major new features in this release are ability to designate alphabetic container positions and export storage container contents, save multiple "Specimen Carts" and share with collaborators, collection protocol based "Dashboard", and context sensitive help in every page. In addition to these features, caTissue Plus also contains many legacy bug fixes and security related fixes.
Krishagni has started working on the next release of caTissue Plus, v3.0, which will contain support for international deployment (date format, state list, zip code format, labels, remove SSN, etc), integration with Imaging databases with plugin for Aperio, support for adding events in bulk, usability enhancements in Specimen page, and support for auto generation of Protocol Participant ID (PPID).
About Krishagni
Krishagni Solutions is an India based software product development company with specific interest in Clinical Informatics and Clinical Research. Krishagni is involved in the caTissue and caBIG since 2005 and is actively driving the caTissue open source development environment. Our focus on open source based solutions and vast experience in working with academic institutes for past 10+ years makes us an ideal partner for Clinical Informatics software development needs. Our expertise includes web and mobile application development, data warehousing and mining, natural language processing, ETL, system integration (HL7, web services, ESB), and so forth.
For more details contact Srikanth Adiga (CEO, Krishagni Solutions) at srikanth.adiga(at)krishagni(dot)com.