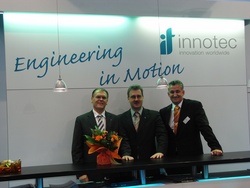 We buy technology which enables us to portray our processes with it
SCHWELM & NEUTRAUBLING, Germany (PRWEB) December 6, 2007
In the run-up to the agreement Krones AG evaluated all ECAD systems in 2006 and in addition an intensive benchmark was performed in the second quarter of 2007. With its Life Cycle Asset Information Management Solutions, called Comos(R), innotec GmbH prevailed against three competitors.
Intelligent Data Migration
With innotec GmbH, Krones AG now has a practical orientated business partner with experience in migrating inventory data. In a first step, all previously used systems, all existing inventory data of electrical engineering and of automation, such as all existing data coming from the Racos system, will be intelligently migrated to Comos(R).
Replacement of legacy systems
Using Comos(R) systems such as Racos or PID light and SmartPlant(R) so far applied in the P&ID area, will be replaced. Dr Michael Kranz, head of Information Management at Krones AG says, "We buy technology which enables us to portray our processes with it". After performing the intelligent migration process of all inventory data to Comos(R) the intention is to be in production by the end of 2008.
Dr. Michael Kranz, head of Information Management at Krones AG, and Jochen Schuler, Managing Director of innotec GmbH signed the licence frame agreement at the SPS/IPC/DRIVES trade fair in Nuremberg (27-29 November 2007) on 29 November 2007.
About Krones AG
Krones AG with its head offices in Neutraubling, Germany, designs, develops, and builds machines and lines for all areas of process technology, filling and packing and internal logistics. The biggest buyers are from the food and beverage sectors as well as from the chemical/pharmaceutical and healthcare sectors. More than 1,300 granted patents and patent applications prove the company's innovation potential. Krones AG employs more than 9,100 people worldwide. Approximately 87 percent of the produced machines are destined for export. Sales rose by 12.7 % in 2006, and made up a revenue of about EUR 1.9 bn.