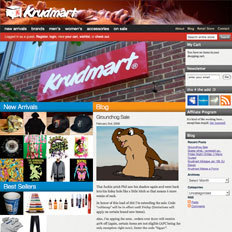 I didn't really know what to do.
Buffalo, NY (PRWEB) February 5, 2009
After nearly a year of research and development, Krudmart has officially launched their new website (http://www.krudmart.com). Along with the visual style, careful inventory selection and sharp writing they've always been known for, the new interface takes all that up a notch and ads some very useful new features.
Krudmart was founded in 2002 by Steve Kay, a born and bred Buffalonian (and the self-proclaimed King of Buffalo) who had just returned home after two years of traveling with no real college or job experience to speak of. "I didn't really know what to do." Kay says "I had a bit of computer knowledge and was into skateboarding and art so I started brainstorming and talking with people in different areas of expertise that I'd met through the years and it just kind of happened.."
And happen it did. From the meager beginnings of an eBay account (where the off-kilter name came from) to a Yahoo store and eventually on to a custom built web store. By 2006 Krudmart had outgrown the small confines of the house Steve grew up in (features of which included a living room/warehouse and both kitchen and bedroom offices) and the operation moved into a 2,000 square foot storefront, office and warehouse unit in downtown Buffalo.
Since the move the company's main focus has been on building the local retail presence in Buffalo but the time came to go back and re-evaluate the internet affairs.
To achieve a more direct personal connection with shoppers, the site has now integrated its blog into the front page right along with the new arrivals and best sellers. This creates incentive to check the home page on a daily basis and keeps viewers entertained and informed.
On the shopping front, customers now have far greater control over the way they browse the inventory. Aside from the traditional way of browsing by brand or category, the new "Shopping Options" features acts like a personal shopper. By selecting options from a series of drop-down menus, the entire catalog can be narrowed down by size, color, brand, category and even price range to help single out just the right thing.
On the development of the new site, Krudmart President Steve Kay said: "This was a giant step for me. I had to take something that started out very small and personal and somehow adapt that for a wider audience. Throughout the whole process we had people in our ear; analysts, fellow business owners, customers, friends.. telling us what we should do. All of that was heaped in a big pile and sorted through. We used the best of that feedback to build the framework then filled in the blanks the way we always have. I couldn't lose the attitude and style that got the company where it is now."
While this might seem like time to expand the product base, Krudmart is actually pairing down the scope of the inventory in a sense. Brands that have either crossed over into the mainstream or have fallen off in performance are being dropped. Instead relationships with long-standing brands are being strengthened. For instance; Krudmart recently reached an agreement with streetwear industry cornerstone, Fuct, to be their sole online retailer for North America. They are also gearing up for exclusive collabs with brands they grew up with like Flying Coffin and All of this is another part of providing the customer with a more personalized experience.
For additional information on Krudmart or any topics mentioned in this release, please contact Steve Kay or visit http://www.krudmart.com.
###