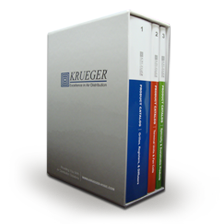 We are excited to show the result of countless hours developing the industry's most user-friendly, comprehensive Product Catalog.
Richardson, TX (PRWEB) November 30, 2012
The most prominent feature of Krueger's Product Catalog is a new three volume design. The first volume includes grilles, registers, and diffusers; the second volume focuses on terminal units and fan coils; and the third centers on sustainable and specialty product solutions, such as chilled beams and critical hospital operating room systems. Another noticeable feature is the expanded introduction which discusses an array of topics about Krueger-HVAC, from their values and industry involvement to laboratory capabilities and paint finishes. Included in the introduction is also a photo gallery of products with page references that make it especially easy for new customers to quickly locate products, learn model names, and look-up product information.
"We are excited to show the result of countless hours developing the industry's most user-friendly, comprehensive Product Catalog," said Paul Christiansen, Vice President of Sales and Marketing at Krueger-HVAC. "We strive to not only provide HVAC professionals with a wide selection of quality air distribution solutions, but also offer product information in such a manner that facilitates the process of product education and selection."
New Products Featured in Krueger's Latest Product Catalog:

Fan Coil Product Line
Chilled Beam Product Line
Displacement Ventilation Product Line
1900 TechZone Frame Option
5680, 5680MP, and 56880 Industrial Grilles
CRN Series of Concentric Ring Nozzles
REGC5 Series of Round, Egg-crate Grilles
R580 and R5880 Series of Round, Single/Double Deflection Grilles
PLQLT Series of Low Temperature Plaque Diffusers
PLQIMP Series of Integrated Multi-port Diffusers
DPL2 Split Vane Drum Louver
9EGC5 Stainless Steel Egg-crate Return Grille
1400SB Sectorizing Baffle
CRFF Series of Fan Filter Units
TADFILTER, RFFILTER, and 5FILTER line of Critical Environment HEPA Filters
Sterilflex Modular Aluminum Operating Room System
KLPS-D Dedicated Outdoor Air System (DOAS) Fan Powered Terminal Unit
KQFS-FA Ultra Quiet Fan Powered Terminal Unit with Fresh Air Inlet
New Terminal Unit Liner Options
Antimicrobial Finish
Powder Coat Finish on Critical Environment Products
Accompanying the new product lines are new engineering sections that provide an in-depth understanding of the products and their application, including specific information as it relates to industry standards and occupant comfort. An assortment of helpful diagrams, charts, and equations, coupled with explanations of principles and industry definitions make both new and existing engineering sections an educational tool for HVAC professionals of all levels.
The Krueger-HVAC Product Catalog is available in a hard-bound, printed format and on USB memory sticks. Contact your local Krueger-HVAC Representative to request your copy or simply view it on the Krueger-HVAC website. For a great mobile solution, find a special offer on Krueger's Facebook page (http://www.facebook.com/kruegerhvac) to download the Product Catalog e-book.
About Krueger-HVAC
Krueger-HVAC is a leading manufacturer of air distribution solutions for commercial and industrial applications, including grilles, registers, diffusers, terminal units, fan coils, underfloor products, critical room products, fan filter units, displacement ventilation, as well as chilled beams. Krueger-HVAC is a division of Air System Components, Inc. (ASC). ASC is a subsidiary of Air Distribution Technologies, Inc. For more information about Krueger-HVAC air distribution solutions or to obtain a copy of Krueger's Product Catalog, visit http://www.krueger-hvac.com.