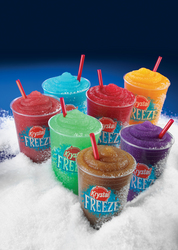 We know our guests are going to love our new Krystal Freezes made with the highest quality ingredients, and we are excited to launch our online campaign designed to help them deal with the possible onset of sphenopalatineganglioneuraliga
Chattanooga, Tenn. (PRWEB) March 27, 2008
This spring, fast food icon Krystal is debuting a new line of premium slush beverages called Krystal Freeze™, and in order to prepare guests for the intense, icy cold rush of slurping down the all-natural fruit-flavored beverages, the company is launching an online campaign that offers helpful tips on coping with sphenopalatineganglioneuraliga, the condition commonly referred to as brain freeze.
Available at Krystal restaurants systemwide starting March 27, the Krystal Freeze is a deliciously cool treat that takes the classic American slush beverage and combines the icy concoction with the highest quality gourmet syrups made from pure cane sugar and natural fruit flavorings. The Krystal Freeze line-up will consist of seven refreshing flavors: Orange, Cherry, Green Apple, Grape, Pomegranate, Blueberry and the classic frozen favorite, Coca Cola®. Each Krystal Freeze is made individually to order and served in a 20 oz. cup at the suggested price of $1.79.
"We know our guests are going to love our new Krystal Freezes made with the highest quality ingredients, and we are excited to launch our online campaign designed to help them deal with the possible onset of sphenopalatineganglioneuraliga," said Brad Wahl, vice president marketing, The Krystal Company. "Because even though people intrinsically know they should enjoy icy cold beverages slowly, as soon as they taste the premium flavors of our Krystal Freeze line-up, they're going to have a difficult time not drinking it quickly; thus making brain freezes nearly inevitable."
Krystal will launch its brain freeze-coping online campaign in conjunction with the roll-out of the new Krystal Freezes this March, distributing tips through a series of specially designed emails to its newsletter subscribers. Krystal will also post tips at brainfreezerelief.com and krystalist.com. The campaign will provide guests with information about the causes of brain freeze as well as offer a number of home-remedies guests can use should they experience the condition. Krystal Freeze drinkers will also be encouraged to share videos of their own brain freeze experiences and tricks they have used for relief.
A sample of "Brain Freeze Relieving" tips include:

Press your tongue to the roof of your mouth. This will help warm the area back up, constricting the blood vessels.
Drink a glass of warm water at the first sign of brain freeze. Other warm food items will also work. The key is to warm the mouth back up so the blood vessels constrict.
Create a mask with your hands and place over your mouth and nose while breathing rapidly.
Lay your head to the side. Anecdotal evidence suggests that this may help alleviate the pain.
"We want to make sure our guests fully enjoy our new Krystal Freeze line-up, and by arming them with these tips and tricks, they'll be able to consume their favorite flavors with the confidence of knowing how to cope with brain freeze if it should strike," said Wahl.
The Krystal Company
Founded in 1932, Krystal restaurants have become more than sparkling-clean eateries where friendly employees serve up fresh, delicious food. Krystal has become a cultural icon and an experience that virtually every man, woman and child in the South has shared. The Krystal brand – and the great food, service, value and setting that it represents – has taken a prominent place in the South's cultural landscape. The Krystal Company is the oldest quick service restaurant chain in the South and the second oldest in the United States. The Chattanooga, Tenn.-based company currently has nearly 400 restaurants in Alabama, Arkansas, Florida, Georgia, Kentucky, Louisiana, Mississippi, North Carolina, South Carolina, Tennessee, Texas and Virginia. For more information, visit http://www.krystal.com.
Media Contacts:
Brian Cooley
Wicked Public Relations
404.589.9888 / cell: 404.316.7482
brian @ wicked-pr.com
Brad Wahl
The Krystal Company
423-757-1515
bwahl @ krystalco.com
# # #