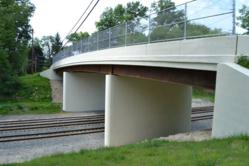 The design-build team of KS Associates and Great Lakes Construction were authorized to proceed with the project in September 2011. Only eight months later the new bridge was open to traffic.
Elyria, Ohio (PRWEB) August 01, 2012
On Friday, July 13, 2012, CSX Corp. hosted a dedication ceremony for the new Fifth Street Bridge in Niles, Ohio, an important project for the railroad, the State of Ohio and the City of Niles. KS Associates provided bridge engineering services for the project, which involved replacing a Pony Truss bridge built in 1904 with a new a three-span bridge.
The new bridge features a higher vertical clearance than the previous structure to accommodate double-stack freight trains. The ability to accommodate double-stack trains allows manufacturers to receive raw materials and distribute finished goods in a more efficient and less costly manner.
This $1.4 million bridge is one of the first fully completed clearance projects in Ohio being undertaken as part of CSX's National Gateway, a public-private partnership aimed at improving the flow of rail traffic and creating a more efficient rail route linking East Coast ports with Midwestern markets. The bridge, which carries approximately 1,500 cars per day, is also an important link between Niles and Lordstown, Ohio. And, unlike the old bridge, the new bridge has the load capacity to carry a fire truck and provides a faster route for emergency response vehicles.
One of the greatest challenges of the project was the accelerated schedule necessitated by an unexpected train derailment in July 2011 that called for the emergency removal of the old bridge and detoured traffic. The Design-Build team of KS Associates and Great Lakes Construction Company was authorized to proceed in September 2011. Only eight months later, the new bridge was open to traffic in May 2012.
The project was funded through a combination of dollars provided by CSX and the American Recovery and Reinvestment Act (ARRA).
About KS Associates:
KS Associates is a civil engineering and land surveying firm founded in 1987. The firm provides land survey and mapping services; 3D laser scanning services; design, bidding and construction administration of public infrastructure and transportation projects; and site development engineering services for residential, commercial and institutional projects. For more information visit: http://www.ksassociates.com.