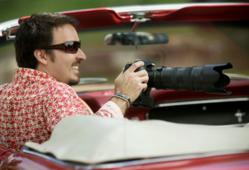 Bend, OR (PRWEB) May 31, 2012
The F network is teaming up with Kevin Kubota, the Idea Guy behind Kubota Image Tools, for a second season where he will host an educational program called PhotoPro. In the show, Kubota will cover a wide range of topics relating to photography including lighting and capture techniques, post processing tips, using Lightroom® and Photoshop® effectively, his expertise on marketing and business, and much more -- all delivered in his fun and engaging teaching style. A new episode will air each Thursday on FramedNetwork.com, which began May 8th and will run through August 23, 2012.
The F Network began as "FRAMED", an inspirational and educational behind-the-scenes show about photographers. Now in its third season, it has launched into a full-on platform for photography education. PhotoPro is free to the public thanks to sponsorship from Adobe® and White House Custom Colour lab.
About Kubota Image Tools
Kubota Image Tools was created by "Idea Guy" Kevin Kubota to empower photographers with time-saving and creative tools for Photoshop® and Lightroom®. Kevin develops tools for his own award-winning studio–named one of the Top 10 Wedding Photographers in the World by American Photo magazine–then shares the success secrets via his software and educational products.
Kevin is the author of the critically acclaimed Digital Photography Bootcamp book and workshop, and the Amazon award-winning book: Kevin Kubota's Lighting Notebook: 101 Lighting Styles and Setups for Digital Photographers™ (Wiley).
Kubota Image Tools products have won numerous awards, from the Hot One to Reader's Choice, but it's Kevin's love of photography and teaching that drives their success. Kubota Image Tools is backed by a tech- savvy, friendly staff who measures their success by the success of their clients.
To keep up with new products by Kubota Image Tools, and the endeavors of Kevin Kubota, be sure to visit http://www.kubotaimagetools.com and http://www.kevinkubotablog.com.
For more information contact Clare Kubota at 877-330-4330 or pr(at)kubotaimagetools(dot)com