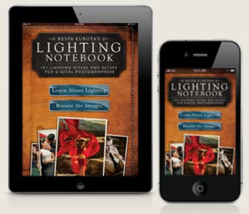 Available now on the App Store®, the app will outfit your iPhone and iPad® with its own version of Kevin's Lighting Notebook
Bend, OR (PRWEB) May 02, 2012
Kubota Image Tools, the well-known creator of the photography industry's acclaimed image enhancing tools and educational materials, announces the release of the highly anticipated Lighting Notebook App in the Apple App Store.
The App is an accompanying tool to Kevin's Lighting Notebook (Kevin's recently published book on lighting for digital photographers) that enables users to quickly and efficiently search by keyword each of the 101 lighting scenarios that are included in the App. A photographer will easily be able to watch video tutorials, mark favorite lighting designs, filter through setups based on multiple parameters, search by keyword, view gear used, see costs to assist in budgeting, and research different products - all from their iPhone or iPad.
The App is free and includes 5 lighting scenarios, and a full version upgrade with all 101 scenarios is available for purchase in-App for an introductory price of $14.99 (retail $19.99).
"I knew when writing the Lighting Notebook that it would be a natural enhancement to add searching and behind-the-scenes videos," said Kevin Kubota. "My idea was to make the education as accessible and complete as possible, leaving the viewer with a complete understanding of how I created each image. Knowledge is more useful if it's easily accessible, and that is what makes the search and marking features of the app so valuable. I'm excited to see the Lighting Notebook come to life in whatever form suits the user best, and I think the Book and iApp combo will do the trick."
Kubota will periodically add new lighting styles and setups to the initial 101 scenarios. New content will be easily downloadable through in-App purchasing when it becomes available. The Lighting Notebook App will prove to be a helpful and versatile tool for photographers in the office and in the field.
To learn more about the Lighting Notebook and accompanying App, please visit http://www.thelightingnotebook.com.
About Kubota Image Tools
Kubota Image Tools, fueled by "Idea Guy" Kevin Kubota, is constantly churning with new products and educational materials that help photographers move their businesses toward success. They offer Photoshop® and Lightroom® products to speed up a photographer's workflow and help them create beautiful art for their clients.
On top of that is a range of world-class educational products from Kubota's critically acclaimed Digital Photography Bootcamp™, to his new book, Kevin Kubota's Lighting Notebook: 101 Lighting Styles and Setups for Digital Photographers™ (Wiley). A photographer can't go wrong learning photography skills from a man American Photo named as one of the Top 10 Wedding Photographers in the World. Kubota's experience is what drives his passion to help photographers hone in on their art and business skills, and Kubota Image Tools is backed with a knowledgeable, helpful staff who aim to empower photographers.
To keep up with new products by Kubota Image Tools, and the endeavors of Kevin Kubota, be sure to visit http://www.kubotaimagetools.com and http://www.kevinkubotablog.com.
###
Media Contact:
Clare Kubota
Kubota Image Tools
(877)330-4330
pr(at)kubotaimagetools(dot)com