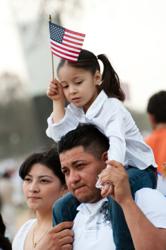 "We are excited to see the Obama administration give hope back...this action will change the lives of thousands of Utah children and young adults for the better. It helps restore some semblance of sanity to our immigration system,"

- Charles Kuck
Salt Lake City, UT (PRWEB) June 15, 2012
This morning, the Obama administration announced that many undocumented immigrants who came to the United States as children would no longer be deported. Mirroring many key principles within the DREAM Act initiative, this signals a major shift in the journey towards better and more fair immigration reform. "We are excited to see the Obama administration give hope back to innocent children. This action will change the lives of thousands of Utah children and young adults for the better. It helps restore some semblance of sanity to our immigration system," Charles Kuck said in reaction to this major change in immigration policy.
This new policy requires that people who came to the United States illegally must (1) have been under the age of 16 at the time of entry, (2) have been continuously present in the United States, (3) be in school or graduated high school (including a GED), or have been honorably discharged from the military, (4) have not committed a major crime, and (5) currently be under the age of 30. Those who qualify are eligible for deferred action (temporary protection from deportation). The White House reports that for those who are not in deportation proceedings, the Department of Homeland Security will issue guidance within 60 days about the procedures to apply for deferred action.
For more information on this announcement, as well as to see how this affects you and your family, please contact an attorney at Kuck Immigration Partners at 801-989-5700, or contact them at bmelendez(at)immigration.net, or twheelwright(at)immigration.net. You can also read more about this announcement at http://musingsonimmigration.blogspot.com/2012/06/obama-dream-program-what-is-it-really.html.