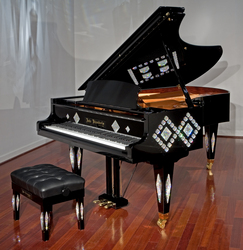 so we're excited that he has chosen Habatat for this once-in-a-lifetime show.
Tysons Corner, Virginia (PRWEB) April 15, 2009
Habatat Galleries announced today the anticipated arrival of the Kuhn-Bösendorfer, a stunning $1.2 million art case piano designed by internationally acclaimed glass artist Jon Kuhn. The elegant, ebony polished 7'4" grand piano inlaid with Kuhn's glass will be the centerpiece of more than $3-million worth of the sculptor's work on exhibition at the Tysons Corner art gallery. The piano will be on-site for as long as four weeks, beginning Sunday, April 26. The Kuhn exhibition will run through June 17.
"Habatat is the first art gallery in the U.S. to exhibit the Kuhn-Bösendorfer grand piano, which claims to be the most expensive new limited edition piano now available," said gallery co-owner Jay Scott in making the announcement. "Jon is considered the world's leading cold glass sculptor and has been an important part of our glass art business for many years," he noted, "so we're excited that he has chosen Habatat for this once-in-a-lifetime show."
The striking Kuhn-Bösendorfer piano was a year and a half in the making and is a "grand collaboration" between L. Bösendorfer Klavierfabrik GmbH of Vienna, Austria and Jon Kuhn, whose art has been called "the finest cold glass work on the planet."
The Kuhn-Bösendorfer expands on that reputation and elevates art case piano design to a new and important degree. The instrument (along with its matching bench) is arrayed with as many as 500-thousand glittering lead crystal facets arranged in a tasteful pattern of 200 diamond shaped jewels on the case, lid, legs, fall board and bench. An unusual design feature is a striking crystal fall board logo with the purchaser's name written in gold leaf, which assures that the owner's name (whether art collector or professional pianist) will endure - along with the piano.
Kuhn's creations have always been known for their unusual radiance, and even in low light, the Kuhn-Bösendorfer glows. As light increases and refracts more energetically through the Kuhn jewels -- especially on the lid, the whole instrument seems to come alive, even before the first note has been played. Tiny dabs of reflected color splash across the piano's bronze plate and strings as if placed there by an Impressionist's paintbrush. "It's almost like light itself has been reborn within the brilliant glass matrix at the heart of every Kuhn piece," one admirer remarked recently.
Layers of optical quality crystal give Kuhn's work the illusion of great depth. "People almost seem to want to dive in," former Mint Museum of Craft + Design curator Melissa G. Post once observed. "Jon offers visitors a completely dynamic experience. You are surrounded by light and shadows, color and movement in a way that you would not experience anywhere else."
Kuhns, as collectors call his work, come in myriad geometries, from cubes to circles to graceful ellipses that seem like they want to rise up off their pedestals. Wedge-like shapes are suspended from artfully crafted frames like oversize necklaces. There are clusters of brilliant icicle-shaped pendulums that cast bits of light around the room as they turn, transforming the entire gallery space into part of the artist's "canvas."
Kuhn's work is included in the permanent collections of over 40 museums and the White House collection. They range from tabletop to monumental size (freestanding pieces suitable for large outdoor or indoor spaces) and typically are priced from around $6,000 to over $1-million. First Bloom, a half-million-dollar Kuhn cube with 25,000 individual crystal facets, will be for sale at Habatat, among many others in a selection of sizes and prices. But the pièce de résistance is the piano, which must be seen to be fully apprehended. Kuhn calls it "breathtaking. We knew it would turn out great," he said, "but nothing like this."
The Kuhn-Bösendorfer piano is an exceptional musical instrument as well as a stunning piece of art. Bösendorfers are acclaimed by professional piano performers all over the world for their unforgettable tone and touch. "I have come to understand that there's a certain cachet to the name," Scott said, "because when I tell people who know their pianos that we're going to have a seven-foot Bösendorfer in the gallery, their eyes light up."
"Ignaz Bösendorfer started making his pianos in 1828," Kuhn said. "He thought of the piano as more of a stringed instrument than a percussive one. That's why Bösendorfers are made more like a violin than other pianos. That's why they're sometimes called the Stradivarius of fine pianos. It's what gives them their distinctive voice and consistent playability -- and why so many of the old ones are still around. So it's not unrealistic to assume that this first Kuhn-Bösendorfer will still be playable at the end of the 22nd century, long after I'm gone. Think about it," he marveled. "If somebody buys one of my pianos today, their great-great-great-great grandchildren will be enjoying it 180 years down the road. Now that's a legacy!"
Kuhn-Bösendorfers are available from $1.2 to $3.5 million, including the flagship 9'6" Imperial concert grand.
About Habatat Galleries:
Habatat Galleries has five U.S. locations and is known as the leading light for contemporary art glass. Habatat was established in 1971 and has built a solid reputation for quality among private collectors, artists, museums, art consultants, interior designers and architects throughout the country. The Habatat Tysons gallery also works regularly with local clients who are not avid collectors and may be looking for glass art for their home or office.
The Habatat Kuhn exhibition opens on Sunday, April 26 and runs through June 15. The gallery is located just off 495 Exit 47A in Tysons Corner. Go west on Leesburg Pike (Rt. 7) and turn right into Towers Crescent Drive.
Contact:
Habatat Galleries Tysons Corner, VA
Jay Scott
703-989-7110
http://www.habatatgalleries.com
###