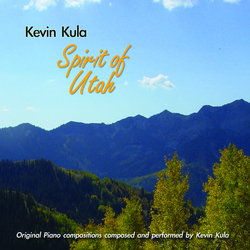 "Music that Heals the Soul is the best show I have ever seen!" Sue G – (Providence, Utah)
Providence, UT (PRWEB) April 25, 2011
Utah has long been known for the famous and noteworthy people that have emerged from this beautiful scenic state. With famous Utahans such as musical legends Donny and Marie Osmond, actress Loretta Stone and television innovator Philo T. Farnsworth, Its no wonder Utah has gained such a remarkable reputation. A new musical talent by the name of Kevin Kula has surfaced in Northern Utah and rapidly gained a huge following. Kevin is a multi-talented composer/pianist with an incredible vision and the ability to capture the heart and soul of his audience with his exquisite music.
Kevin firmly believes in the healing power of music and the infinite peace, love, joy and inspiration that music bestows upon humanity. "I believe music is a powerful gift from God that can raise the spirit," he says. Kevin Kula's longstanding vision to share his music with the world has now become a reality. Along with the release of two CDs, Spirit of Utah and Music that Heals the Soul; Kevin delivers a unique concert series also entitled "Music that Heals the Soul." Kula describes his first album Spirit of Utah, as a "soothing and inspirational collection of original solo piano compositions to relax and inspire the soul." Several songs from Spirit of Utah have been featured on radio stations in the U.S, Canada and Spain. In addition, Kevin has been able to reach listeners worldwide with Internet radio stations such as Jango.com airing his music.
"Kevin's CD Spirit of Utah is beautiful! It brings forth a sense of tranquility and peace. We have found the CD helps relieve stress and conveys a feeling of well- being." Suzy & Greg - (Maine, USA) Amazon Review
Kula's second CD Music that Heals the Soul, features Kevin on piano accompanied by talented vocalist Jeremy Threlfall. Kevin and Jeremy combined their unique talents and wrote a song entitled "I Am Free." This song was used in campaign ads for a candidate recently running for U.S. Senate, which aired throughout the state of Utah. Music that Heals the Soul is a compilation of music from Kevin's inspirational concert series, which has drawn large audiences in Northern Utah.
Discovering the sound of best selling New Age Artist Yanni and his Live at the Acropolis concert sparked Kevin's idea to play his piano accompanied by an orchestra. This idea quickly developed into the creation of his dynamic "Music that Heals the Soul" concert. Kevin leads the concert on piano along with Jeremy Threlfall on vocals, combined with a handful of exceptional musicians who make up the orchestra. The concert is a melodic blend of Kevin's original orchestra pieces and Jeremy Threlfall's original compositions, along with brilliant arrangements to Classical, Broadway, inspirational, and well-known songs. What sets Kula and Threlfall apart from other performers is their innovative musical style of arranging well-known songs along with their own original compositions.
"Music that Heals the Soul is the best show I have ever seen!" Sue G – (Providence, Utah) Amazon Review
Listening to Virtuoso Pianists such as Frederic Chopin and Sergei Rachmaninoff greatly contributed to Kevin's life long passion for composing and playing piano. Chopin's piano pieces and the piano concertos written by Rachmaninoff motivated Kevin to begin composing his own music at a very young age. His love for film scoring and the talents of celebrated American composer, conductor and pianist John Williams inspired several of Kula's melodies. Williams has composed some of the most recognizable film scores in the history of motion pictures, including those for Jaws, the Star Wars saga, Superman, the Indiana Jones films, E.T. the Extra-Terrestrial, and all but two of director Steven Spielberg's feature films.
Although Kevin's music harmoniously combines a Classical, New Age and Celtic influence, the greatest inspiration for him has been his devoted relationship with God and nature. Kevin resides peacefully in Cache Valley surrounded by scenic tranquility and the majestic mountains of Northern Utah. The spirit of this magnificent mountain range fuels his creative expression and significantly influenced the creation of his Spirit of Utah album. Kevin expresses that his most satisfying moments are spent deep in the woods amongst the beauty and silence of nature, which evokes an inner peace in his heart and mind. Kula defines the sights and sounds of nature and music as one in the same. He emphasizes that, "The sounds of birds, rushing water, a howling coyote or wolf and the wind rustling through the trees are all natural sounds of music around us. All of these sounds bring me the same peace that music does. I intend to express these feelings through my music." Many listeners attest to experiencing this sense of inner peace, which Kevin wholeheartedly expresses through his music.
"Kevin's music is able to touch a wide array of emotions while bringing about a peace to your spirit. It is obvious that nature and love are the inspirations involved in his composing." Black Stetson - (Providence, Utah) Amazon Review
After countless standing ovations and a multitude of CD sales Kevin is excited to take his show on tour throughout the U.S. this year. Kula and his ensemble have stirred the souls of many audiences and intend to uplift and enliven many more on their nationwide journey.
CDs "Spirit of Utah" and "Music that Heals the Soul" released on 4/26/2011 through Clay Pasternack, Inc., Phone: (440) 333-2208, email: claypinc(at)cs(dot)com for Record Retail
New Leaf Distributors, http://www.newleaf-dist.com phone: (800) 326-2665 for New Age Book and Gift Stores.
About the Artist:
Determination, faith, passion, perseverance and a life long dream all played a compelling role in Kevin Kula's present success as a piano player/composer.
Kevin's desire to play the piano arose at an early age and he began taking piano lessons at 8 years old. Soon thereafter he began writing his own music. Kevin recalls the first glimpse of the how his music brought peace and joy to others from a beautiful childhood memory of his dog cheerfully entering the room and curling up next to the piano bench every time he played. It wasn't long before Kevin's dream of sharing his music with the world emerged. Kevin graduated from Utah State University possessing a degree in Music Composition. In the beginning of his college career, Kula was told by several professors that he had no potential to establish a career in music. This only strengthened Kevin's determined work ethic to successfully bring his dream into fruition. Nothing held him back from pursuing what he loved to do. Kevin believes, "Life is too short not to do what you love." Music had become his passion and he wanted nothing more than to share his gift with the world. Confidence, perseverance and faith became essential determining factors to his all of achievements. Kula continued extensive studies in performance and composition for piano and eventually an entire orchestra.
Kevin's faith in the healing aspect of music also continued to develop as he volunteered to play piano in senior centers. He witnessed how alert and receptive the elders became who had lost all ability to communicate. Kevin observed that once he started playing piano they began to tap their hands and move to the music. He observed that, "Even though they could not communicate verbally, the music was still able to touch their spirit." Kevin went on to performing live on piano throughout Utah and before long developed his "Music that Heals the Soul" concert series that continues to enthrall huge audiences nationwide.
###