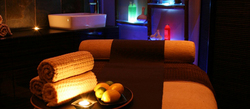 a hidden gem of luxury in the fashionable West End of London
(PRWeb UK) February 12, 2010
Kuno Tierra has finally got the spa-kling new website that it truly deserves! As a first-class boutique spa to the stars, Kuno Tierra is celebrating the launch of their brand new website that is attractive, easy to use, and worthy of its valued customers.
Kuno Tierra is a hidden gem of luxury tucked away in a quiet corner of the fashionable West End of London. The urban spa is housed under the same roof as award-winning Bloww Hair Salon making 4 Regent Place, Mayfair one of the most sought-after addresses in London. Together they provide an immaculate, top-quality, and discreet service to all customers, celebrities and locals alike.
Founders Antony Barker and Reza Haftchenari pride themselves on their personal philosophy, which embraces a dedication to creating flexible, bespoke treatments that can be tailored to suit individual needs and requirements. Their unique treatments are rooted in Middle Eastern tradition and blended with modern approaches and innovative products, bringing Kuno Tierra to the forefront of advanced spa therapy. The new website includes the full range of treatments available, so the prospective customer is free to browse the products and services, and spend time discovering their perfect therapy.
You just need to step inside the door of Kuno Tierra, see the beautiful décor, hear the calming music, and enjoy the scents of aromatic incense to feel the tranquillity soothing you instantly. The spa employs only the most professional and qualified staff and is committed to giving their customers a friendly, welcoming service. Kuno Tierra's therapists love getting to know their clients personally, which is why so many visitors return to them for regular spa treatments.
On the newly-created website you will find a comprehensive collection of all the boutique spa's luxury treatments, along with an explanation of what they comprise. For a treat to oneself, Kuno Tierra recommends the unique Blast of Oxygen Facial that includes an innovative Oxygen Spray. Alongside their facials, the spa has an exciting array of massages that can be customised to focus on a particular area, and to concentrate on a particular problem. Also presented on the new website are Kuno Tierra's luxury beauty treatments, which range from expert pedicures and manicures, to tanning, to cutting edge waxing treatments that promise to make hair removal less painful.
The boutique spa is flexible in catering for special occasions, including opportunities to visit as a couple and partake in therapies together – which are perfect for celebrations such as anniversaries and Valentine's Day. Kuno Tierra also offers a spa hire service, and will put on a brilliant event for all occasions such as hen parties, corporate events, and 21st birthdays. They are eager to create your perfect event, and are happy to cater to your needs – just visit the spa hire section of the website today to see Kuno Tierra's full range of spa and beauty treatments and enquire online about your very own pampering session.
We have spas in both Mayfair and Chelsea, which can be contacted on the following numbers,
Kuno Tierra Mayfair
Phone: 0845 805 0825
Kuno Tierra Chelsea
Phone: 0845 868 2674
Or head to the new site at http://www.kunotierra.com and browse our luxurious treats!
###