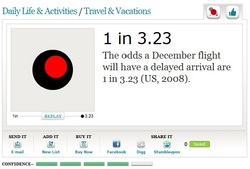 "Receiving two Summit EMA awards underscores Kurani Interactive's ability to add brand value and drive deep engagement through thoughtful user experience design," - Dan Kurani
Red Bank, NJ (PRWEB) December 17, 2009
Kurani Interactive, a New Jersey-based interactive agency, announced today that the company won two awards in the 2009 Summit Emerging Media Award (Summit EMA) competition for its work in developing the Book of Odds website.
Kurani Interactive received both a Visionary Award and Innovator Award in this year's Summit EMA competition. Recognized for demonstrating unusually keen foresight in emerging media, Kurani Interactive was selected as one of six Visionary Winners for its Visual Browse and Odds Visualization for the Book of Odds website. Visionary status is bestowed on a small fraction of entries making this the primary target for emerging media professionals to strive for. The Innovator Award, which recognizes the introduction of new methodologies and techniques, was given to Kurani in the category of new product/service website for the groundbreaking reference work that the Book of Odds website provides.
"Receiving two Summit EMA awards underscores Kurani Interactive's ability to add brand value and drive deep engagement through thoughtful user experience design," said Dan Kurani, founder and president of Kurani Interactive.
The Summit EMA competition is open to firms of all sizes including interactive advertising agencies, digital studios, animation and web designers, multimedia producers and more. Judging is done by a panel of design and marketing professionals representing some of the top firms from around the world. Awards are given in seven main areas: websites, online advertising, online marketing, interactive, online video, integrated campaign and mobile/wireless, and bleeding edge media. Individual categories offer submissions in a variety of areas from drip, viral and mashed video marketing to experiential, mobile and interstitial advertising.
"The Summit Emerging Media Award recognizes that our media is changing rapidly, as is our industry, and there is a need to reward those pushing its bounds," said Jocelyn Luciano, executive director of the Summit International Awards organization. "Many are studying these changes and looking for the new powerful tools and avenues to conceptually reach an application to which the audience and consumer can relate. This award is for the pioneers of the bleeding edge means of modern communication."
About Book of Odds
Book of Odds began with a simple question: "Why are we able to get information about so many subjects so easily, yet not about the most vital and interesting subject – the probabilities of everyday life?" Answering this question became their mission. Visit http://www.bookofodds.com to find out the odds.
About Summit Awards
The Summit International Awards organization is dedicated to furthering excellence in the communications industry. It administers rigorous awards competitions throughout the year with the goal of recognizing companies and individuals that excel; that go beyond the expected. For more information, contact info(at)summitawards(dot)com or 503-297-9979.
About Kurani Interactive
Kurani Interactive is a New Jersey-based interactive agency that has won dozens of awards in the areas of digital strategy and website/application design. Visit Kurani Interactive's website at http://www.kurani.com or call 1-800-889-7676 to discuss how Kurani can help your brand create a value-adding and engaging experience for your audience.
###