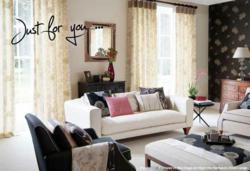 Just For You.
London, United Kingdom (PRWEB) February 25, 2013
At Daws House they demand the highest standards, whilst able to offer the very lowest prices that can be found anywhere on the planet. They import fabrics from all over the world, and are constantly seeking new designs. Making the choice for curtains has never been easier with their innovative and entirely unique fabric filter system.
The Kurtinz Group and the Designer Fabric Houses it associates with, all understand the importance of affordable luxury, a leading retailer of custom roman blinds with it's head office in London, United Kingdom. Their focus has changed in recent years, as they listen to the demands of their diverse clientele; that was instrumental in their decision to supply their high quality soft furnishings right across the globe.
Designed in Leicester UK, Scion is a new brand added to the kurtinz portfolio. From the worldwide renowned Harlequin Scion has filled a long awaited void in the soft furnishings market. The fabrics are of luxurious quality, with an array of colour choices that will surely find the satisfaction of every client for their curtains and blinds.
The fabric ranges most featured on kurtinz are Harlequin, Clarke and Clarke and Prestigious Textiles, between them they offer many thousands of designer fabrics in rich cottons, pure silks, linens and combined compositions. From floral to plain and stripes, there is an unquestionably amazing array of patterns and colours which kurtinz offers in the creation of their affordable made to measure soft furnishings service.
About Kurtinz.com
Located in London City, United Kingdom, Kurtinz is ideally placed to regularly take inspiration from the world famous Chelsea Harbour Interior Design Centre, where all the leading fabric design houses display and discuss latest fashions and trends for the soft furnishings industry. Kurtinz.com continuously enhances its range of fabrics and styles of curtains and blinds, with the emphasis on quality and affordability.
Kurtinz Group
Daws House
33-35 Daws Lane
London
NW7 4SD
United Kingdom
Phone: +44 (0)845 257 1888
Fax: +44 (0)845 280 9888
http://www.kurtinz.com