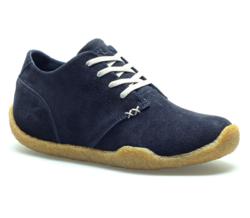 No other casual shoe promises the support, style and all-day comfort of the Aalto Chukka
Salt Lake City, UT (PRWEB) November 30, 2011
Kuru Footwear, a web-driven shoe brand announces a technology so innovative, it allows the footbed of a shoe to magically adapt to feet. Kuru received acclaim when they debuted their line of hiking shoes featuring this patent-pending technology called KuruSole™. The company is now using this technology in a casual shoe offering.
Recently the company introduced the Aalto Chukka. According to Kuru founder, Bret Rasmussen, "due to our breakthrough midsole technology, no other casual shoe promises the support, style and all-day comfort of the Aalto Chukka".
Their customers agree. One of their customers, Liz, recently wrote about her Aalto casual shoes, "AMAZING! First experience with KURU and I am in love!"
Inspired by the classic silhouette of the timeless desert boot, the Aalto features top grade, luxurious leather uppers in versatile colors. It gets its name from Alvar Aalto, one of the most famous Finnish designers known for his innovative furniture designs, architecture and glassworks.
According to Kuru, this technology is founded on the simple concept that "If your feet are not flat, why are your shoes?" The basic premise is virtually all shoes are flat inside. Kuru shoes, on the other hand, feature a custom orthotic molded into the footbed of the shoe. What makes this technology so unique is that the orthotic flexes inward with each step.
Kuru claims this inward flexing cups the heel for superior comfort. This means Kuru casual shoes keep the fat pad beneath the heel under the heel bone. In so doing, the fat pad more naturally cushions the body with each step.
Stories abound about how technological innovations like the internet, the personal computer or smartphones have transformed lives. Kuru seems poised to use technology to transform the performance expectation of casual shoes. And, the Aalto Chukka is an excellent first offering.
About KURU:
What drives genius? Our primitive ancestors had a simple yet basic need—to protect their feet from the unforgiving ground—thus shoes were born. Shoes have not changed much since. They are flat, yet your feet are not. KURU designed the next phase in shoe evolution, a shoe that is shaped like your foot and dynamically adapts with each step—and genius was born.
The genius lies in Kuru's patent-pending KuruSole™ chassis technology that custom molds to the curves of your foot while dynamically cupping your heel with each step for immediate comfort. Darwin would be proud.
Kuru Shoes are sold direct via their website. For more information about Kuru Casual Shoes, visit: http://www.kurufootwear.com
###