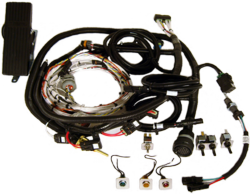 This project would have taken our shop weeks of labor without the dash panel and wire harness from Kustom™ Products, they make the installation process so easy we just recently completed our 7th conversion using their Kustom™ Products package
Coos Bay, Oregon (PRWEB) November 29, 2011
Kustom™ Products, Inc. has introduced a full line of electronic interface wire harness products for Caterpillar®, Cummins®, Detroit®, Eaton Fuller®, and Allison® that make a HD truck engine or transmission swaps, conversions, and installations a reality.
Kustom™ Products builds custom engine monitoring panels and dash assemblies to provide complete control and monitoring of one or more engines. This type of design is well suited for portable power generation stations, pump stations, oil field equipment and other applications that require start up and monitoring of the engines from a common remote location. The dash panels provide for the installation of gauges, controls, switches, lighting and other engine monitoring and control functions. All design options include harnessing, sensors, gauges, lighting and switches pre-wired and built to customer specifications for true plug and play installation.
"We purchased a complete dash panel and 3406E electronic engine including the wire harness interface for a late 1960's B70 Euclid haul truck that came from the factory OEM with a mechanical 12v71 Detroit. The engine and dash panel hookup was 100% drop in plug and play as advertised," said Andy Wolfe of SKW, a division of ASRC Construction Holding Co. based out of Alaska. Mr. Wolfe continued, "This project would have taken our shop weeks of labor without the dash panel and wire harness from Kustom™ Products, they make the installation process so easy we just recently completed our 7th conversion using their Kustom™ products package"
Kustom™ Products offers a complete installation kit for 1994-2010 CAT, Cummins or Detroit electronic engines and Gen 3 and Gen 4 Allison & Fuller automated transmissions. All installation conversion kits include an engine or transmission harness, cab harness, all required sensors, indicator lights, switches, feature labels, detailed installation diagram, and tech support line for guidance during installation. All of the Kustom™ Products harness packages are built to the OEM's recommendations for electronic engine and transmission control. The benefit to this design is that all future diagnostics and troubleshooting is supported by the engine or transmission OEM's service and support literature.
Some engine family swaps are similar in control and when applicable Kustom™ Products offers harness modifications or adapters. Modifications and adapter conversions need to be evaluated on a case by case basis, but are both cost effective and require minimal labor to install.
Kustom™ Products Inc. is an ISO 9001:2008 certified company that specializes in the design, engineering and manufacturing of OEM quality engine and transmission conversion/installation packages for Caterpillar®, Cummins®, Detroit Diesel® and Allison®. Kustom Products, Inc. also specializes in the design and manufacturing of complex multi-engine control and harness packages that offer central control of automated engines and transmissions from a central or consolidated engine monitoring station or control panel. Kustom™ Products, Inc. offers a solution for all electronic interfaces, whether you are performing a simple OEM level repower solution to meet EPA emission requirements, have a desire for an engine or transmission upgrade or conversion, or a complex OEM level complete plug and play harness and engine monitoring package. Kustom™ Products, Inc. can simplify the installation process with the best quality products available in the market. For more information visit http://www.kustomharnessproducts.com or call 888.564.8890.
###