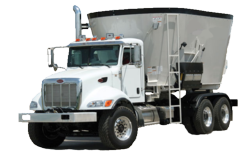 Coos Bay, Oregon (PRWEB) March 06, 2012
Since 2003, as a result of the unreliability of the current production engines in a feed mixer truck, many of the feedlots and dairyman have gone to tractor pull-behind mixers bodies instead of truck mount mixer bodies. Kustom Truck has solved this uncertainty by offering feed mixer chassis up-fitted with pre 2002 EPA Caterpillar and Cummins engines, which do not require DPF or SCR. A pre 2002 engine has significantly reduced heat rejection requirements when compared to current production engines, which once again offers the end user a chassis with proven reliability and performance that used to be available in a truck mounted feed mixer chassis application.
Kustom Truck has a long term established working relationship with most of the feed body manufacturers in North America and is capable of helping the customer provide a chassis that meets the unique requirements of the feed body manufacturers. With over 15 years of experience in building and up-fitting glider kits, Kustom Truck has developed significant knowledge to help the customer provide a truck that is spec'd properly and built for the application to insure a smooth install once the chassis is delivered to the feed body manufacturer for installation.
A typical base model feed mixer truck would include a 108 to 114 inch BBC cab, a 20K front axle, a double steel frame with FREPTO provision, 46K rear axle (7:17 ratio) on a vocational heavy duty spring suspension, a ISM Cummins 400 HP engine and a Fuller RTO-14708LL transmission. These options can be upgraded to a Caterpillar C-12 435 HP engine, an Allison HD-4560 RDS transmission, heavier rear differentials and suspension, RETPO provisions, auxiliary transmission, feed lot core radiator, and a reversing fan.
All warranties are registered serial number specific with the appropriate OEM (Freightliner, Western Star, Peterbilt, Cummins, Fuller, Caterpillar, Allison, etc.) in the purchasers name valid through any authorized dealer in North America.
Kustom™ Products Inc. is a ISO 9001:2008 certified company, and considered an industry leader in up-fitting and building glider kits. Kustom™ Products has over 15 years of experience to rely on for knowledge, expertise, and efficiency when it comes to building a quality product that exceeds the quality and workmanship of a factory truck. To insure that you are sourcing one of the most reliable feed truck chassis available in the market place, take a look at the Kustom Truck option for your next feed mixer truck chassis. For more information visit http://www.kustom-products.com/ or call 888.564.8890
# # #