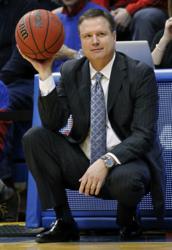 KVC and I both know that you don't have to have superpowers to make a difference in the life of a child, and I am proud to be a part of this event that celebrates the heroes among us.
- Coach Bill Self
Overland Park, KS (PRWEB) May 14, 2013
KVC is teaming up with KU Coach Bill Self on behalf of children in foster care and foster, adoptive and biological families for The KVC Hero Luncheon on Thursday, June 13th from 11:30 a.m. to 1 p.m. at the Overland Park Convention Center, 6000 College Blvd, Overland Park, KS 66211.
The KVC Hero Luncheon features Self speaking about his experiences and how everyone can step up to be a hero for a child or family today. The luncheon, chaired by Jeff Spencer of Holmes Murphy, also showcases KVC Everyday Heroes, who make a tremendous difference in the lives of children by providing support for essential medical, psychological, and education needs, and making dreams such as violin lessons, summer camp, or the perfect prom dress a reality.
"KVC and I both know that you don't have to have superpowers to make a difference in the life of a child, and I am proud to be a part of this event that celebrates the heroes among us," Coach Bill Self said.
Individual tickets and sponsorships are available starting at $100 per ticket or $1000 per table of ten. All proceeds benefit KVC's Foundation.
For more information and to reserve your spot at the KVC Hero Luncheon, contact Beth Schild at bschild(at)kvc(dot)org or 913-322-4944.
About KVC Health Systems, Inc.
KVC's work as a private, non-profit organization enriches and enhances the lives of thousands of children and families by providing medical and behavioral healthcare, social services and education. Founded in 1970 as Wyandotte House, KVC works to heal the most traumatic cases of childhood abuse and neglect. Named in 2008 by Annie E. Casey Foundation as a best-practice organization, KVC is a leader in the use of evidence-based research and innovative tools and technology to advance the welfare of children and families in our communities.