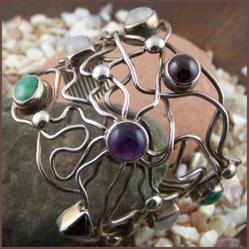 Live in style wearing handcrafted artisan sterling silver jewelry and hand-woven artisan cashmere shawls from the enchanted Kingdom of Nepal.
Chandler, AZ (PRWEB) December 15, 2011
Once a year, KVS Pasal, the foremost online source for uniquely handcrafted sterling silver jewelry and handwoven cashmere from Nepal, reduces prices storewide by 40%.
"The sale extends to sterling silver chains, cuffs, bracelets, necklaces and earrings, and handwoven cashmere shawls and stoles" says Victoria Vacala, the owner of the company. Many of the pieces on sale are set with unusual stones that come from all over the world. The cashmere is handwoven. The wool comes from the neck and the under belly of a "Capra Hircus" goat found in the Himalayans. The delicate feel and subtle yet dazzling beauty makes it the "Diamond Fabric."
Jewelry and handwoven cashmere textiles are available online at KVS Pasal and in various boutiques and jewelry stores across the United States. These items are hand-crafted by artisans in Nepal and are created especially for those who love unique craftsmanship at reasonable prices.
Established in 2006, quality and aberration has been the concentration of KVS Pasal. Victoria Vacala, owner of the company, says, "KVS Pasal functions delicately with the artisans in Nepal to pattern valuables that are of the utmost high quality and strives for designs that make a statement."
###