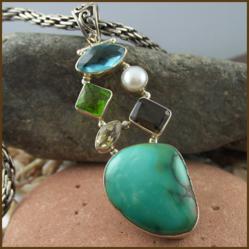 Live in style wearing handcrafted artisan sterling silver jewelry and hand-woven artisan cashmere shawls from the enchanted Kingdom of Nepal.
Chandler, AZ (PRWEB) July 25, 2012
KVS Pasal imports uniquely handcrafted sterling silver jewelry. Several pieces are a unique combination of distinct semi-precious stones; not one piece will be alike. KVS Pasal also imports uniquely handwoven cashmere shawls from Nepal. These shawls are unparalleled to other cashmere currently available in stores and boutiques. They are of the finest quality.
Recently, owner Victoria Vacala, owner of KVS Pasal made a decision to add jewelry from artists located in the USA. " I have lived overseas for many years and grew to love what other countries have to offer. Upon returning to the USA, I have com to realize there is are many great artists in the USA. I would like to support them as well," said Victoria Vacala. The fist artist to be added is Donna Thome, owner of ISAJUL.
For women who love to wear treasures and are passionate about unique, hand crafted sterling silver jewelry and handwoven cashmere, please visit http://www.KVSPasal.com.
About KVS Pasal
Founded in 2006, KVS Pasal is a Phoenix, AZ area based business with an online presence at kvspasal.com. Products are also available in various boutiques throughout the USA. Wholesale accounts are also welcomed. KVS Pasal can be found on Facebook