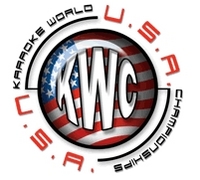 Music to me is about the emotion that the crowd feels. If the audience is having fun and feeling the love, I have them and the music I am truly happy
Cincinnati, OH and Chicago, IL (PRWEB) August 9, 2007
Karaoke World Championships USA ,LLC(KWCUSA) announces 2007 winners and start of 2008 competitions.
KWC-USA held competitions at the Hamilton County Fair in Cincinnati, OH on August 2nd, 3rd, and 4th. This was the first year that the USA held a competition to send their top male and top female to compete in the Karaoke World Championships. This year the Karaoke World Championships will be held in Bangkok, Thailand on September 7th, 8th, and 9th. The KWCUSA 2007 competition was sponsored by Sound Choice produced by Wendell Payne of Payne Entertainment. Sound Choice provided over $4,000 in prizes for the top three male and female contestants. The top male and female will represent KWCUSA in Bangkok.
The winners were:
Female:
Champion - Barbie Robbins
2nd Place - Michele Feaster
3rd Place - Erica Creech
Male:
Champion - Michael Moses Griffin
2nd Place - Gary Byrd
3rd Place - Timothy Oliver
Additional Videos of the champions and other contestants are available at the KWC-USA web site. To view the video of male champion Michael Moses Griffin, visit http://www.youtube.com/watch?v=5B6A2uf5mQ8. To view the video of female champion Barbie Robbins, visit http://www.youtube.com/watch?v=ithBdXSkAKo.
About the champions
Barbara Robbins is the daughter of George Robbins and Lisa Sanders. Growing up in Dry Ridge, Kentucky, She has been singing for as long as she can remember and has participated in the Grant County talent show for the last 7 years and the annual Grant County High School talent show since her freshman year. She plans to try out later this year for American Idol. Her future plans include completing college and building her career around music; music is her life.
Michael A.M. Griffin was born in New York City and now resides in Brookfield, Illinois and Dekalb, Illinois where he is a graduate student working on his Masters Degree in Music Education. His interest in music grew from the early influence of both his parents. His mother sang opera and his father was a professional gospel singer. With his true love for the audience, here are some of his Credits:

Attended high school at The School of Performing Arts in New York City.
Currently teaching beginning instruments, vocals and jazz improvisation and jazz techniques privately.
Awarded Chicago Area "Entertainer Challenge" 2006 Entertainer of the Year sponsor by Suburban Nitelife Magazine.
Winner of the World Karaoke Contest in Miami July 28th, 2006.
Created a program performing music in schools in the Chicago area. The program consisting of demonstration of must musical styles both instrumentally and vocally.
Working on a Master of Music in Education at Northern Illinois University and Master of Music in Education in Music Composition at University of Illinois, Urbana.
"Music to me is about the emotion that the crowd feels. If the audience is having fun and feeling the love, I have them and the music I am truly happy".
Michael's future goal is to teach high school music and to continue playing music, singing and performing as music as possible.
KWC-USA also announced the opening of the 2008 season culminating in a national final to determine the two people that will represent the USA in Beijing, China in 2008. Venues and Karaoke hosts can sign up online to hold competitions at a cost of $375.00 and may start their competitions immediately. This allows for competition to advance their two winners (1 male and 1 female) to the next level of competition as well as providing them with the basics to hold a great competition in their local venue.
Wendell Payne of Payne Entertainment says, "I am proud to be a part of this competition. I have looked for ten years to be able to provide a true competition and opportunity for karaoke singers. I have seen many Karaoke Contests and competitions that provide prizes, but no advancement, exposure, and opportunity. I want to make this the competition of all competitions and provide this opportunity to as many singers as possible. I got involved in karaoke as a singer following a certain Karaoke host. I found out that she had a real dream to sing in Nashville. We came up with a plan, I started hosting Karaoke and we helped her go to Nashville. It was the most worthwhile thing I had ever done. I want to do that same thing for as many people as I can through the KWCUSA."
KWCUSA (http://www.kwcusa.net) has established rules and basic how-to guidelines for all hosts and venues. KWCUSA does not want the venues to run popularity contests. That may be a good method to bring people into your venue, however it is short term, reduces the credibility, and will not provide the venue with the best representative. Their winners will represent their venue at every level they advance.
KWCUSA would like to thank our national sponsor, Sound Choice, and our local sponsors including the Hamilton County Fair, Century Inn, Rent-A-Center(Roselawn), In-Service Solutions , and Access Audio. Wendell Payne of Payne Entertainment would like to personally thank all the competitors, judges, and others for making this year a success and to all the people at the great place to Karaoke - the Soft Rock Cafe in Centerville, Ohio.
# # #