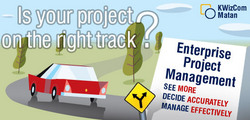 Toronto, Canada (PRWEB) August 10, 2009
KWizCom Corporation, long time experts in Microsoft SharePoint and Dynamics CRM has now entered the field of Enterprise Project Management creating, along with partners Matan Consulting Group, a suite of must have Enterprise Project Management Solutions for knowledge workers.
The KWizCom-Matan Alliance has recently released the first set of EPM products from the suite of tools they are planning to co-develop.
The flagship KWizCom-Matan product is called Project One Shot. One Shot was designed with the busy executive in mind. One Shot enables executives to stay abreast of the project progress, avoid delving into unnecessary details but at the same time still have access and the ability to drill down to the more information when/if it becomes necessary to step in and problem-solve
Like the rest of the KWizCom-Matan Alliance products, Project One Shot is a web component add-on that integrates fully with Microsoft SharePoint and Microsoft Project Server and intended for use in organizations that manage medium to large scale projects. All the Alliance products draw on, combine and expand the capabilities of out of the box SharePoint and Project Server bringing customers the tools and functionality they need to efficiently manage projects and attain business goals.
Nimrod Geva, KWizCom's VP Sales & Marketing says: "Although Enterprise Project Management is a new field for KWizCom we have vast knowledge of SharePoint, component development and a deep understanding of business needs and the needs of knowledge workers. We have partnered with Matan, EPM experts who are also skilled developers and implementers to create an alliance of unbeatable professionals. Together we are creating products that bring ease, functionality and efficiency to the complicated task of successfully leading projects to success."
Users can download and try the KWizCom-Matan Alliance products, free of charge, for a time-limited period from the KWizCom website. An EPM bundle that packages together (at a significantly discounted price) a number of useful project management tools is available on the KWizCom website as well.
Matan's Software Development Manager, Amir Rosenfeld adds: "The customers are already giving us amazing responses. 'This is what we always wanted and didn't know we could have!' and 'Thanks for making my complex job so much simpler!'… Never before has there been a combination like that we see here in the KWizCom-Matan Alliance. Our unique blend of expertise is bringing the EPM world solutions to previously unattended 'ailments', streamlining workflow in a very complex field. We have lightened the burden of management, freeing knowledge workers to deal with the task at hand - creating winning, profitable projects for their organization."
Matan Consulting Group
Matan is Israel's most experienced Enterprise Project Management (EPM) company and is considered one of Microsoft's oldest and most experienced business partners in the implementation and integration of MS Project Server-based solutions.
Matan brings to the table a unique blend of business understanding, accumulated experience and proven ability in implementing supportive technological solutions.
Deep understanding of client's needs led Matan to develop unique, complementary software solutions, which have won international recognition. Matan solutions are implemented by dozens of customers worldwide.
Matan has been chosen time and again by Microsoft, as part of the Microsoft Rapid Development Program, to implement and integrate MS Project Server's beta versions, beginning with the release of the first version in 2002 and culminating in the most recent version which was launched in 2007.
For more information on Matan please visit: http://matan-consulting.com/
KWizCom Corporation
KWizCom, a leading developer of innovative software components is known for creating solutions that put customers on the fast track to productivity, answering business needs unsolved by out of the box Microsoft SharePoint and Microsoft Dynamics CRM, enabling rapid deployment at minimal cost.
KWizCom, a Microsoft Gold Certified Partner, creates add-ons that are compliant with the web accessibility standard (WCAG), are cross browser compatible and multi-lingual by design. KWizCom brings to the Alliance vast expertise in developing and maintaining cutting-edge add-ons for Microsoft's Information Worker suite of servers.
For more information on KWizCom please visit: http://kwizcom.com/
###