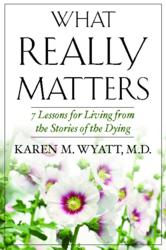 Death and dying are universal issues encountered by every culture and society around the world. Every person wants to know what really matters in life.
Silverthorne, CO (PRWEB) April 12, 2012
When Dr. Karen Wyatt was making her rounds to the bedsides of dying hospice patients fifteen years ago she never dreamed that one day she would write a book about that experience with the potential of reaching a world audience. But Wyatt did eventually go on to write the book "What Really Matters: 7 Lessons for Living from the Stories of the Dying," which was released by publisher SelectBooks in February 2012 and now has been chosen for representation at the London Book Fair by Waterside Productions, Inc.
Since the book's release Dr. Wyatt has been interviewed by newspapers such as USA Today and The Denver Post and appeared on several radio programs. But the most gratifying milestone for the book has been the interest generated in foreign markets, including India and South Korea. Dr. Wyatt states, "Since death and dying are universal issues faced in every human society it is understandable that there is a need throughout the world for information that addresses the meaning of life and acceptance of death, especially when our planet is experiencing so much disruption right now." The response to "What Really Matters" in the US market has been overwhelmingly positive with readers calling the book transformational and life-changing. Wyatt hopes that international readers will be equally enthusiastic about the book.
The foreign translation rights of the book have already been purchased by South Korean company Yemun Publishing but there may be other international publishers interested in bringing the book to their countries. Neil Gudovitz of the Foreign Rights division of Waterside Productions, Inc. chose to include "What Really Matters" in his list for the London Book Fair because he expects it to attract interest, though how much interest remains to be seen. For now it is exciting for Dr. Wyatt just to know that the beautiful stories of her patients might one day bring comfort and hope to a patient or family on the other side of the world who is struggling to make sense of life ... and death.