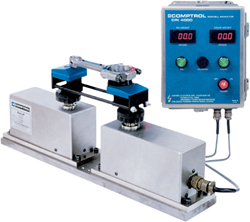 This acquisition expands the range of motion control products Kyntrol offers while opening the door for Kyntrol's innovative Electro-Hydraulic and Electro-Mechanical actuation technology to Comptrol's broad customer base
Cleveland, Ohio (PRWEB) February 27, 2014
Kyntrol LLC, a subsidiary of Kyntrol Holdings Inc. headquartered in Eastlake OH announced that it has acquired the assets and business operations of Cleveland-based Comptrol Incorporated.
Since 1952, Comptrol has been a market leader in the design and manufacture of products and systems for precision tension measurement, linear motion, part weighing, and industrial automation. Comptrol products have been applied into many diverse and demanding markets including glass manufacturing, steel, automotive, tire and rubber, converting, transportation, paper manufacturing and others.
The Tension Measurement products at Comptrol have been the first choice for measuring tension in today's continuous processing industries. They have a long-standing reputation for being accurate, rugged and dependable with over 30 models available ranging from 4-35,000 pounds. The Load Cells can be mounted at any angle, and are known for their performance proven designs. Comptrol offers complete engineering and technical support for all of their products.
Comptrol's Linear Motion products expand from Ball Screw and Acme Screws (in either inches or metric, rolled, precision rolled or ground), special machining, assemblies, bearing blocks, end mounted bearing supports, ball nuts (preloaded and non-preloaded), linear actuators, slides and either single axis or multi-axis positioning systems. Comptrol is a full service linear motion supplier.
Comptrol's Quality Verification Weighcells for 100% continuous process monitoring and Control offer customers a more precise method of weighing. Comptrol's Quality Verification Weighcells and controls have provided a fast accurate non-destructive method of monitoring and/or controlling the quality of every part that can affect not only quality but product safety for over 60 years.
Akin to the Motion Control Systems offered at Kyntrol, Comptrol has had extensive experience working with OEM's, end users, and system designers on numerous new and retrofit applications.
Kyntrol LLC designs and manufactures motion control products and solutions for the Aerospace, Defense, Medical, Solar and General Industrial markets:
"Kyntrol acquired Comptrol Inc., to broaden its product offering and build on the strong tradition and quality name of Comptrol," said Wayne Foley, President of Kyntrol. "This acquisition expands the range of motion control products Kyntrol offers while opening the door for Kyntrol's innovative Electro-Hydraulic and Electro-Mechanical actuation technology to Comptrol's broad customer base. We are very excited to welcome the Comptrol team and its customers to the Kyntrol group and pledge to maintain the level of quality they've come to expect."
Former executives of International Motion Control, a global leader in industrial and aerospace motion control components and systems formed Kyntrol Holdings Inc. and its subsidiaries, Kyntrol LLC and Midwest Precision LLC. Kyntrol LLC specializes in innovative motion control solutions that incorporate extensive expertise in mechanical, electrical and software engineering. Midwest Precision is an ISO 9001 / AS9100C certified manufacturer of precision machined components and assemblies for the Aerospace, Defense, Power Generation and Engineered Industrial markets.