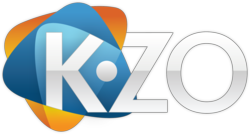 Giving our customers the ability to access the KZO Video Suite from within Salesforce.com saves time and integrates the entire sales and sales training process into a unified platform
Reston, Virginia (PRWEB) December 08, 2011
KZO Innovations, the leading provider of social collaboration software for business video, extends its application integration program with the addition of Salesforce.com. Joining an impressive list of customer relationship management (CRM) and learning management systems (LMS) including: Blackboard, SharePoint, Jive, Plateau Systems and Igloo, the KZO Business Video Suite is now seamlessly integrated with the Salesforce.com platform.
"Giving our customers the ability to access the KZO Video Suite from within Salesforce.com saves time and integrates the entire sales and sales communications training process into a unified platform." Said Brian Kelly, VP of Sales at KZO Innovations. "Sales team members, many using Salesforce.com throughout the day, can now create, share & socialize their video all within the Salesforce.com platform, making it easy to add video or comment on existing videos without going into a separate software tool."
Benefit highlights of the free KZO Business Video Suite integration with Salesforce.com include:

Free integrated Salesforce.com video application and free video hosting
Ability to create or upload video content within the Salesforce.com platform
Single sign on – leveraging Salesforce.com user accounts
Search and find video content as needed within Salesforce.com
Access video from any device including iPads
About KZO Innovations, Inc.
KZO Innovations is the leading provider of social collaboration software for business video. The KZO Business Video Suite is being used by fortune 500 companies and government agencies to securely Create or upload video from any computer, Share video within any CRM, LMS, web portal or as a stand-alone video & Socialize video by engaging viewers - letting them add comments, ask questions and get answers. KZO's interoperability with leading collaboration portals and learning management systems including Salesforce and SharePoint, enables organizations to securely leverage the power of video with live and on-demand collaboration within a workgroup or across their entire global enterprise. Consisting of three integrated components that are compatible with major video formats including Flash and HTML5: KZO Virtual Studio, KZO Video Library and KZO Media Player. Businesses that are interested in the KZO Business Video Suite can create a free account which includes free video hosting.
Free KZO Salesforce.com App
For more information visit: http://www.kzoinnovations.com
KZO Media Contact:
Peter Monahan
Tel: 703-634-9386
press(at)kzoinnovations(dot)com
###