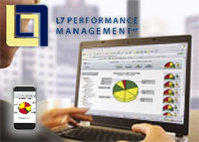 We are excited to be an integral part of the software as service switch
Fairfield, CT (PRWEB) October 15, 2008
Software as a Service is revolutionizing strategic business management. L7 Performance Management Software is on the cusp of that revolution with today's announcement of the national launch of its soft ware as a service performance management platform. The launch meets a burgeoning need for ease of use, transparency, and lower costs in today's competitive business community.
"We are excited to be an integral part of the software as service switch," says Michael Goolden, CEO of L7 Performance Management, "Blending software as a service with performance management is dramatically improving bottom lines and overall performance results for businesses."
With the advent of software as a service technology, users are bidding goodbye to the days of installing software on their computers and running programs from a hard drive. Instead products are web-based, eliminating past hassles of downloading patches, updates and supervising ongoing maintenance of software support. Now when a new version, update, or improvement is made the user receives it automatically. This straightforward delivery system that doesn't require action steps on the part of the customer made sense to Goolden: "Software as a service makes our corporate performance management software easy to use and it lowers costs."
In addition to the added ease of use, software as a service, or SaaS (pronounced "sass"), definitely lowers the upfront cost to consumers. In place of a large upfront fee, customers are billed by manageable monthly subscriptions. This method puts the customer back in control. Outmoded technologies forced consumers to pay high purchase costs for a program regardless of how often or long it was used. With SaaS when customers stop using the program, they stop paying for the service.
SaaS delivers remarkable success stories for businesses. DRC, a package design company based near Chicago is a prime example. Old modalities were not working, and company executives found themselves working harder but seeing no improvements in sales. They met with Goolden and decided to implement the L7 Performance Management system. The difference was dramatic: working smarter with the new SaaS technology and L7 methods breathed new life into the company. The L7 system made managing easy by helping to increase web-based visibility across the company, aligning employees on the same page with the right goals, and helping each one to see how his or her individual work made a difference in real time. The results were impressive: revenues increased over 150%. DRC executives attribute their success to the L7 system being "very flexible" and "very intuitive." John Norman, the President of DRC stated, "One of the things I love about the system is that it is very simple to use and allows me to look over the entire business and know what's going on. It allows me to see and focus on areas that need attention ... Businesses can't afford NOT to have a system like this. If you want to be successful today ... using the L7 system is a no brainier."
L7 Performance Management is a web based management system for managers to easily connect and align their performance goals, projects and people to help make managing easy and improve results. L7 uses an integrated executive dashboard, project tracking, and automatic employee appraisal system with roll-up scoring to provide global real-time control of business status and projects. The system saves time, increases management control and drives results. L7 is on-demand and is also cell phone browser enabled: making it available anytime, anywhere. L7 has a free software as a service version available on their website.
###