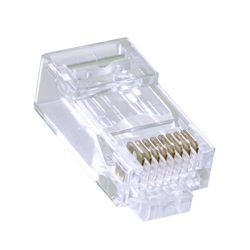 "The design of these new plugs and tool allows technicians to easily verify proper wiring order and maintain the twisted pairs as far into the plug as possible, reducing scrap and providing reliable performance...," said Dustin Guttadauro, Product Manager
NORTH ANDOVER, Mass. (PRWEB) January 22, 2019
L-com Global Connectivity, a preferred manufacturer of wired and wireless connectivity products, announced today that it has launched a new line of pull-through RJ45 plugs and an accompanying crimp tool to simplify RJ45 plug terminations.
L-com's new pull-through RJ45 plugs are made for solid or stranded conductors with an OD of 0.37 to 0.40 inches in the 24 AWG to 26 AWG range. They are designed to make termination easier by allowing for the conductors to be pulled completely through the connector and out the front. The crimp tool then cuts the wires, terminates the pins and crimps the strain relief simultaneously. The tool also includes a cable cutter and stripper for round cable and uses a ratcheting function for an easy and consistent termination every time.
"The design of these new plugs and tool allows technicians to easily verify proper wiring order and maintain the twisted pairs as far into the plug as possible, reducing scrap and providing reliable performance even for technicians who are not experts at termination," said Dustin Guttadauro, Product Manager.
These pull-through RJ45 plugs are offered in Cat5e and Cat6, shielded and unshielded models. They feature 50u gold plating, and shielded models use copper alloy shielding. They have a minimum durability of 200 mating cycles and are ideal for cable assembly, cable repair and general terminations, LAN, premise wiring, Ethernet and telecommunications. These plugs are sold in packages of 100.
L-com's new pull-through RJ45 plugs and crimp tool are in stock and available for immediate shipment.
For more information about this release, please contact:
Peter McNeil
L-com Global Connectivity
17792 Fitch
Irvine, CA
978-682-6936
About L-com Global Connectivity:
L-com Global Connectivity, a leading manufacturer of wired and wireless connectivity products, offers a wide range of solutions and unrivaled customer service for the electronics and data communications industries. The company's product portfolio includes cable assemblies, connectors, adapters, antennas, enclosures, surge protectors and more. L-com is headquartered in North Andover, Mass., is ISO 9001: 2008 certified and many of its products are UL® recognized. L-com is an Infinite Electronics brand.
About Infinite Electronics:
Infinite Electronics is a leading global supplier of electronic components serving the urgent needs of engineers through a family of highly recognized and trusted brands. Our portfolio brands are specialists within their respective product set, offering broad inventories of engineering-grade product, paired with expert technical support and same day shipping. Over 100,000 customers across a diverse set of markets rely upon Infinite Electronics to stock and reliably ship urgently needed products every day.