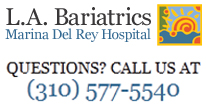 It's an important personal concern, and by making the incision in the umbilicus [belly button] we create a procedure which is virtually scar-less.
Los Angeles, CA (PRWEB) September 26, 2012
When patients undergo weight-loss surgery, they accept that one of the tradeoffs will be some scarring on the abdomen. But now, the Los Angeles based weight loss program, L.A. Bariatrics at Marina Del Rey Hospital, is using the SPIDER, a new surgical system that creates fewer scars, in less-obvious places, than traditional abdominal surgery methods.
"This is a fantastic new tool," said Dr. Jeremy Korman, the Medical Director and bariatric surgeon at L.A. Bariatrics. "I want to do everything possible to make sure my patients recover quickly and with minimal pain. Of course, if we can accomplish this with a great aesthetic outcome, all the better."
Laparoscopic surgery utilizes slim tools inserted through small slits in the skin at the surgery site. The medical industry has continuously sought to perform abdominal surgery with as few incisions as possible. However, when surgeons use traditional tools in a single-incision surgery, the site of entry can get crowded, making surgery more difficult.
The SPIDER system involves just one flexible tool, inserted into the body through a single incision. Once inserted, the SPIDER expands like an umbrella, and all the necessary instruments are deployed. When the surgery is complete, the system folds back up so the surgeon can remove it and close the small incision. The system increases the surgeon's dexterity and visibility compared to other minimally invasive approaches.
Dr. Mona Misra, Dr. Korman's surgical partner at LA Bariatrics, has been using the SPIDER system for nearly a year and has seen excellent outcomes for her patients. "Having the ability to safely and efficiently perform surgeries like the Laparoscopic Sleeve Gastrectomy, Laparoscopic Adjustable Gastric Band, and Laparoscopic Cholecystectomy through a single incision at the belly button is extremely desirable. This provides multiple advantages to patients including faster recovery, less pain, increased privacy, and better cosmetic results. Most importantly, my patients have been thrilled with their results!" added Dr. Misra.
Because the scarring is minimal and in a discreet location, this technique also satisfies patients' desire for privacy after surgery. "It's an important personal concern, and by making the incision in the umbilicus [belly button] we create a procedure which is virtually scar-less. This is an important issue for my patients and therefore it is important to me", Dr. Misra said.
Dr. Korman agreed saying, "This SPIDER system makes surgery easier on the patient, and we are happy to provide this exciting new technology to our patient population."
This is not the first bariatric surgery innovation Marina Del Rey Hospital has helped pioneer in the Los Angeles area. Dr. Korman was among the first to adopt several procedures, including gastric plication, and to implement new combinations of established procedures. He has led the center to its Bariatric Center of Excellence status, which is conferred on the best weight-loss surgery centers by the American Society for Metabolic and Bariatric Surgery. With the addition of Dr. Misra, L. A. Bariatrics now has a combined experience of over 3000 weight loss surgeries. Dr. Korman, Dr. Misra, and the L.A. Bariatrics team say they look forward to continuing their legacy of not only providing the standard, but also the newest cutting edge technologies to their patients.
###
About Marina Del Rey Hospital & LA Bariatrics
Marina Del Rey Hospital in Los Angeles is a boutique surgical hospital focusing on bariatric, spine, orthopedic, and minimally invasive surgery. The multidisciplinary medical team at L.A. Bariatrics and the bariatric surgery program at Marina Del Rey Hospital, offers patients excellent care. As a Bariatric Surgery Center of Excellence, this Los Angeles weight loss center combines exceptional surgical outcomes with nutritional, psychosocial and exercise support for all patients within the program.
About TransEnterix and Spider
TransEnterix is a North Carolina-based medical-device company that partners with the world's leading surgeons to develop pioneering technologies that revolutionize minimally invasive surgery. Through TransEnterix's proprietary device, the SPIDER® Surgical System, surgeons have the ability to offer their patients the STARR Treatment that often only requires a tiny incision near the belly button.