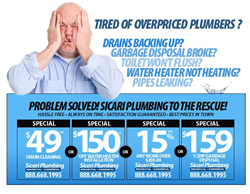 La Canada plumber Sicari Plumbing's $150 hot water heater installation discounts have been featured in the Los Angeles Daily News 'Home Maintenance' section.
La Canada, California (PRWEB) May 21, 2014
La Canada plumber Sicari Plumbing has some great deals, deals so good that they were recently highlighted by the Los Angeles Daily News in their Home Maintenance section. Sicari Plumbing is now offering 150 discounts on hot water heater installations, $49 drain cleanings, $159 garbage disposal replacements, and 15 percent discounts on all jobs more than $200.
And while Sicari Plumbing has some great deals it is not all that they are known for. Unlike most plumbers out there, Sicari charges by the job and not the hour. For consumers this means no more sticker shock at the end of a drain cleaning job that the plumber decided to take his time on or no more bizarre $20 surcharges for washers and bolts that cost the plumber less than a dollar.
Sicari Plumbing has been providing the entire Los Angeles area with reliable, trustworthy flat rate plumbing services for more than 30 years and can handle all jobs from a clogged drain to re-piping an entire office building. For more information or to schedule an appointment please call Sicari Plumbing at (888) 668-1995 or visit their website: http://www.sicariplumbing.com.