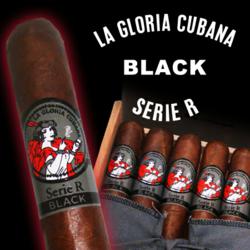 Powerful, refined flavor which comes from a proprietary blend of Dominican and Nicaraguan tobaccos.
Miami (PRWEB) May 30, 2013
Cigar company La Gloria Cubana of Miami follows up the success of its recent releases such as its Trunk Show, Serie N, and Reserva Figurados with the Serie R Black, an ultra dark cigar counterpart to the original Serie R in a natural wrapper which has been in high demand. This limited release collection is only available through select Internet and catalog retailers such as Mike's Cigars.
The first Nicaraguan puro from La Gloria Cubana, all components of the Serie R Black are of Nicaraguan origin including viso leaves from Jalapa and Esteli cultivated in small amounts on the mountainsides there by independent tobacco farmer Pedro Joaquin Guardian. The unique blend is enhanced by a Jalapa ligero wrapper. The components of this cigar are from the 2009 crop, aged 2.5 years after undergoing a year of fermentation.
These ingredients are intended to deliver powerful flavors that are designed to satisfy the serious cigar smoker. La Gloria Cubana created this collection as a boutique small-batch cigar to be a more refined smoking experience. The renaissance of black tobacco has been a trend in the last few years, and the Serie R Black is a representation of this trend. The Serie R Black is a very dark cigar made of purely Nicaraguan components available in small quantities online only.
About Mike's Cigars: Established in 1950, Mike's cigar store is one of the biggest independent cigar mega-stores in the United States with retail and wholesale cigars online since 1998 and mail-order catalog services since 1970, and also a flagship cigar shop in Miami's Bay Harbor. All venues offer premium cigars from most cigar manufacturers worldwide. The company ships cigars, cigar samplers and cigar accessories to consumers all over the world, and carries over 1,000 different brands of premium cigars. Small cigars, large ring gauge cigars and everything in between are available on sale, on site and online at http://www.mikescigars.com.
For more information, call 305-866-2277.