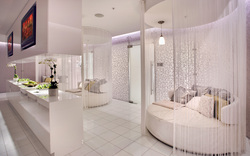 It's a great way to show our appreciation and encourage the use of our amenities throughout the JW Marriott hotel at L.A. LIVE
Los Angeles, CA (PRWEB) November 10, 2010
L.A. LIVE JW Marriott hotel $50 hotel credit available through Dec 31, 2010. Hotel guests can use credit towards The Ritz-Carlton Spa or dining venues including LA Market, gLAnce Wine Bar, Espressamente Illy, The Mixing Room and ION.
"Extending hotel guests a $50 credit allows them to get something extra that they might not have considered at L.A. LIVE like a massage or dinner," said Karen Englund, Director of Sales and Marketing for the JW Marriott hotel at L.A. LIVE. "It's a great way to show our appreciation and encourage the use of our amenities throughout the JW Marriott hotel at L.A. LIVE."
The Ritz-Carlton Spa:
The luxurious 8,000-square-foot Ritz-Carlton Spa reflects the glamour and excitement of Los Angeles in a sleek, urbane environment. Signature treatments such as the Champagne & Shimmer Ultimate Manicure & Pedicure, Glowing Gold Facial and Champagne & Citrus Sugar Scrub ensure guests are radiant and feeling red-carpet ready.
LA Market:
LA Market Restaurant by Kerry Simon "Rock n' Roll Chef" captures modern American cooking with California flair. The menu offers a selection of pizzas and classics such as The "Meatloaf" with mashed potatoes and Bricked Organic Chicken.
gLance Wine Bar:
gLAnce Wine Bar offers an international selection of wines, innovative cocktails and domestic and international beers. Seasonal sharing plates are ideal to meet before a show or game.
Espressamente Illy:
An authentic Italian-style cafe with a modern and innovative feel designed by Luca Trazzi. Illy food embodies the excellence of Italian cuisine by combining fresh, high-quality ingredients with the creative flare of the chefs who created each recipe.
Mixing Room:
The Mixing Room is the ideal place in LA for star gazing and people watching. This venue defines cutting edge drinks while the cocktail menu features contemporary flavors, exotic spirits, unique tinctures, and dramatic garnishes.
ION:
ION is Los Angeles' hottest new open air rooftop pool bar. The sophisticated space offers views of the Los Angeles skyline with cocktails and appetizers.
At the JW Marriott restaurants at L.A. LIVE, you'll not only be right in the center of L.A.'s downtown star attractions, you'll be treated like a celebrity.
Book the $50 credit package online.
###