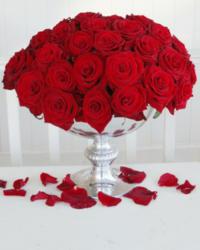 Women love to receive Valentines flowers. Seeing their reaction ... says it all
London, UK (PRWEB UK) 8 February 2013
La Maison des Roses reveals why it's important to send flowers on Valentine's Day and keep the romance alive.
A regretful Valentines evening conversation: "It's fine if you forgot Valentine's Day, I know you were really busy at work" she says. What she is really thinking is you selfish sod, not even a bunch of flowers. A sulk ensues, to which the man asks "What's the matter darling?", she then replies "Nothing I'm fine". What could have been an evening of love and romance turns into one of doom and gloom.
Easily avoided as Levine Woods Dobricza, Creative Director at La Maison des Roses, explains. "Women love to receive Valentines flowers. Seeing their reaction when we knock on their door or deliver to their workplace on Valentines with a luxurious bouquet of sumptuous roses says it all".
However here are some top tips from online florist La Maison des Roses to ensure you get the occasion just right.
1. Avoid at all costs supermarket or garage blooms. They are generally of inferior quality and she'll think it was a poor last minute effort.
2. Have your bouquet delivered on the day, she'll love the attention and added surprise element.
3. Think about her favorite colour. Although red roses traditionally signify love and romance it doesn't have to be red on Valentine's Day. Pink and white roses are equally popular.
4. Don't forget the card message to accompany your bouquet. Write something a little more original than just "Happy Valentine's Day". Something fun and romantic to make her smile.
To celebrate Valentines and keep the romance alive, La Maison des Roses would like to offer a 10% discount on their Valentines collection, simply visit maison-des-roses.com and use promo code VALENTINES-2013 at checkout before February 12th at midnight and they guarantee to wow your lady with their beautiful flowers this Valentine's Day.
About La Maison des Roses
Established in 2005, La Maison des Roses is a London based florist, their business is a luxury online flower delivery service that creates and sends flowers same day in London and next day throughout the UK. They specialise in luxury roses, creating bouquets and flower arrangements with both fresh and silk flowers alike. Flowers for weddings, parties, events and corporate functions is also a key part of their business. To find out more visit maison-des-roses.com.