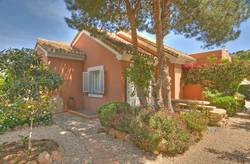 (PRWeb UK) September 17, 2010
Holidays are meant to be an escape from the ordinary and there's no better way of ensuring that than making a holiday accommodation reservation in a luxury La Manga Club villa. No more rules and regulations about not drying swimwear over the balcony, or handing in room keys when you leave the hotel, just a holiday to feel free to come and go as desired.
Although there are villa holidays to suit various budgets, by far the best way to have a holiday to remember for the right reasons is to book a villa that's more up-market. Choose one that's at the top end and holidaymakers will find that they get a lot of personal satisfaction from the extras that are included. For example, most La Manga Club Villas boast not only views of the golf courses, but many include their own private swimming pools! Imagine being able to find a good place beside the pool at any time of the day.
One of the good things about a La Manga Club villa holiday is that they are part of a larger resort. Holidaymakers have the choice to stay isolated from the other guests at the resort, whilst also having full use of the many facilities the resort offers. This includes spa centres, tennis lessons, kids' activity clubs, and water sports. Once guests feel they have had enough of mingling with other guests however you can retreat back to your private villa for the evening.
Another advantage of a La Manga Club villa holiday is that guests do not have the problem parking hire cars. La Manga Club has 24-hour resort security so your vehicle will be quite safe. Having both the villa and a car means holidaymakers can feel as if they are at home with the freedom to fully explore what Spain has to offer.
Holiday villas in Spain are usually more expensive, even in the smaller budget range, than a hotel room but for those interested in this kind of holiday, see if there are any family members who would like to travel as well. Some villas offer 4 -7 bedrooms giving ample space for multiple people to share the villa without it feeling overcrowded. Holidaymakers could even consider having a multi-generational family holiday. This would give grandparents, parents and children the opportunity to share a holiday together under the same roof.
###