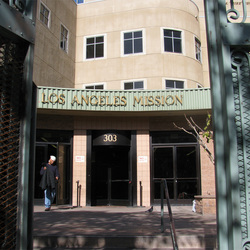 We are very pleased with our partnership with ISO Integration and the investment in this video surveillance system which has improved our response time protecting the Mission's assets from theft and vandalism.
Costa Mesa, CA (PRWEB) March 22, 2011
ISO Integration, video security integration specialists, announces another successful surveillance installation project in Los Angeles, California. The new security system protects Los Angeles Mission of LA, who's indoor and outdoor facilities are now centrally monitored via an IP network Video Management System (VMS) that is designed for greater scalability, higher operational efficiency, and excellent ease of use while also leveraging prior-installed analog video cameras to preserve the Mission's long-term security investment.
Challenge: Secure Los Angeles Mission premises and reduce crime to protect staff and property. The primary goal was to consolidate the three DVRs and the previously installed analog cameras to a single platform capable of long term video storage. Install additional IP cameras to increase protection for kitchen, store room and the perimeter while offering flexibility for future expansion.
Solution: LA Mission seamlessly manages nearly 75 cameras with the Avigilon HD Surveillance System using Avigilon Control Center Network Video Management Software(NVMS) with HD Stream Management and installed Avigilon HD cameras to monitor the perimeter of the building. Avigilon analog video encoders improve the performance of existing analog cameras and the system is monitored from users' desktops or remotely when necessary. The mission also stores thirty plus days of continuous surveillance video footage.
Benefits: By delivering clear and identifiable images, the Avigilon HD Surveillance System has helped to reduce security management costs. Leveraging Avigilon's use of JPEG 2000 compression technology and advanced motion detection capabilities, the Mission has been able to reduce storage costs and improve search capabilities for greater investigative success. This has allowed LA Mission to reduce crime related incidents significantly.
Addressing Security Challenges: Founded in 1936, Los Angeles Mission was located at three different addresses, and moved to 443 South Los Angeles Street in 1949, where it operated until January 1992. The current 156,000-square-foot facility, located at 303 East 5th Street, opened on January 21, 1992. Because of the guidance and direction of both current and past leaders, the Mission is fulfilling its mandate to reach those who are destitute and alone. Having begun as a small rescue mission, it is now among the nation's largest service providers to the homeless. The Los Angeles Mission continues to provide hot meals, safe shelter, clothing, personal care and life-transforming long-term rehabilitation to hungry, hurting and homeless men, women and children.
Located in the heart of LA, the Mission is ground zero for those in need. "Our facility caters to the needs of the less fortunate and often desperate," said Ron Rector, VP Facilities/Operations at LA Mission. And as a result the atmosphere can change without warning. After a string of thefts Mr. Rector was given approval to upgrade from an old, unreliable, and ineffective analog-based surveillance system to the power and advanced functionality of the Avigilon HD Surveillance System. "We use the Avigilon HD Surveillance System in forensic mode, so image clarity and advanced search functionality were key requirements. When we compared the Avigilon HD Surveillance System to our old analog-based system, it became very clear why we needed to make the change," added Mr. Rector.
Mr. Rector spoke about the new video surveillance system installed by ISO Integration, "We are very pleased with our partnership with ISO Integration and the investment in this surveillance system to help us meet our security challenges. The system has improved our response time, decreased the time to search and save incidents, raised staff security awareness and is protecting the Mission's assets from theft and vandalism." Mr. Rector continued, "The surveillance system has helped us secure the front of the building were the highest level of activity occurs as well as the kitchen and storage were we have seen an immediately drop in theft."
ISO Integration installed new IP video surveillance cameras alongside existing analog video cameras, integrating the new and legacy systems into a single unified control and monitoring platform that is highly scalable along various paths. Analog-to-IP video encoders were used to produce an IP stream from the analog cameras, facilitating integration with the new pure IP cameras. Repurposing the analog equipment protects and extends the Mission's prior investments and also serves as a "green" approach that keeps viable equipment in play rather than discarding it.
David Darling, IP Video Sales Manager at ISO Integration, said, "The Mission requires maximum safety for their short term residents, staff, and visitors allowing them to focus on their principal goals. For 75 years, LA Mission has saved many lives and has had a profound impact on thousands of others by providing compassionate, humanitarian services to those in desperate need, and that's where we come in. We deliver surveillance systems that are highly reliable, efficient, and easy to use and maintain. This permits LA Mission staff to focus on their core goals of helping others and allows the staff to rest assured that the facility is well monitored and people are well protected."
Free "Site Walk"
ISO offers new customers a no-cost, no-obligation, on-site survey of their facility to develop a clear understanding of the site's unique challenges, including camera locations, lighting, image expectations, and many other factors. Parties interested in scheduling a free site walk through for their facility can submit a request online at http://www.isoint.com/sitewalk.php or by calling (714) 545-2508.
About ISO Integration
ISO Integration provides turnkey video surveillance security solutions built for ease of use, scalability, and reliability. With an acute focus on solving every customer's unique long-term and day-to-day security needs, ISO designs systems that maximize each customer's distinct resources and business model. With a full range of services, ISO's highly-trained certified staff designs, integrates, installs and maintains complete surveillance systems for businesses, schools, government agencies, and public spaces. Solutions include IP networked video, analog video, CCTV, intelligent video systems, wireless cameras, rental equipment, portable cameras, site and needs analysis, software and hardware integration, video analytics, perimeter intrusion, access control, and systems training. Based in Costa Mesa, CA, ISO Integration serves Orange County (OC), Los Angeles (LA), and surrounding Southern California regions. http://www.ISOint.com
###